The Republican health care plan is dead, handing Trump a stunning legislative defeat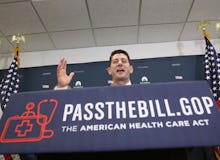 The Republican plan to repeal and replace Obamacare is officially dead, after Republicans failed to garner enough support within their party for the legislation, multiple members of Congress told Mic on Friday.
The death of the American Health Care Act — the GOP's plan to repeal the Affordable Care Act — is a stunning blow to President Donald Trump and to Republicans, who have promised for years that they would repeal and replace former President Barack Obama's signature domestic achievement.
Speaker Paul Ryan called the defeat "disappointing" and said that while he thinks Obamacare is failing, "We're going to be living with Obamacare for the foreseeable future."
CNN reported that Republicans plan to move on from addressing health care entirely — letting down their base of voters who have been clamoring for an Obamacare repeal since the law was passed in March 2010.
Trump, for his part, made repeated promises during the 2016 presidential campaign to repeal and replace the ACA, even going so far as to say the repeal would be "so easy" during an October campaign rally in Florida.
The death of the AHCA came minutes before the House was set to vote on the bill, after it became clear that the bill did not have enough Republican support to pass. 
As of Friday afternoon, 36 Republicans publicly said they wouldn't support the bill — far more than the 21 votes needed to kill it. 
Republicans hoped that delaying the first AHCA vote on Thursday would give the GOP enough time to convince more House Republicans to back the bill. 
Yet the extra time to build a consensus failed to bring the GOP together, with more Republicans announcing they were against the bill on Friday.
The White House had said that there was "no Plan B" if the AHCA didn't pass.
"There is plan A and plan A," White House Press Secretary Spicer said Wednesday. "We're gonna get this done."
And Mick Mulvaney, the White House budget director, said Trump would turn his attention to other issues if the health care bill failed.
Trump, for his part, said he was "100% behind" the proposed plan, which never really had the broad support it needed to emerge successfully from Congress' lower chamber. 
A poll released Thursday showed that a dismal 17% of voters approved of the AHCA.
March 24, 2017, 4:05 p.m.: This article has been updated. 
Will Drabold contributed reporting from Washington.