Dozens of black kids are missing in DC. These black lawmakers want the FBI to find them.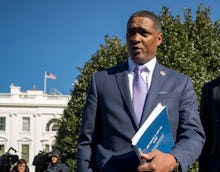 Rep. Cedric Richmond (D-La.), chairman of the Congressional Black Caucus, and Delegate Eleanor Holmes Norton (D-D.C.) are urging FBI Director James Comey and Attorney General Jeff Sessions to investigate over 500 cases of children missing in the nation's capital.
On Friday, the New York Daily News reported that Richmond and Norton sent a letter pleading to Comey and Sessions to "devote the resources necessary to determine whether these developments are an anomaly or whether they are indicative of an underlying trend that must be addressed."
According to the Metropolitan Police Department, more than 500 kids and teens — many of them black teenage girls — were reported missing in Washington, D.C., since the beginning of 2017. As of Wednesday, 22 cases remain unsolved.
"Ten children of color went missing in our nation's capital in a period of two weeks and at first garnered very little media attention," the letter read. "That's deeply disturbing." 
Richmond said he hopes to have a meeting with Sessions, but according to NYDN, no meeting has been set yet.
"Whether these recent disappearances are an anomaly or signals of underlying trends, it is essential that the Department of Justice and the FBI use all of the tools at their disposal to help local officials investigate these events, and return these children to their parents as soon as possible," Richmond told the New York Daily News.
On Wednesday, Ward 8 Councilman Trayon White hosted a town hall meeting at Excel Academy Public Charter School over concerns about the missing children. Hundreds of people showed up, some addressing their frustrations to local leaders and others expressing concerns for their families' safety.
At the town hall, one young girl took the microphone and made a heartbreaking plea for city officials to find out why young black girls are going missing.
"Why does stuff just have to happen to us?" the girl pleaded. "Why do people have to be so horrible to us? Why can't we just get more respect? Why can't we all just be family, get together and help each other? Why do they just gotta hurt us so bad?"
Acting D.C. Police Chief Peter Newsham said at the town hall that the most of these missing teens are vulnerable to people who may prey on them.
"The difficult thing is some of these kids do go missing multiple times," Newsham said. "When they go missing, guess what? You have a child out there and there are people in our community that will prey on those children."
The rising trend of young black girls missing from D.C. has prompted a larger conversation on social media. Through the hashtag #MissingDCGirls, social media users are posting names of missing children. Some are also using the hashtag to call out a perceived lack of media attention to black or brown women and children who have gone missing.
According to National Crime Information Center data, 170,899 black children were missing in the United States — far more than any other racial category except for white, which includes Hispanic and had 264,443 missing children, the Associated Press reported.