When is Kendrick Lamar's next album coming out? Possible release date revealed.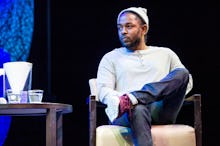 The wait for Kendrick Lamar's next album may be ending soon. According to the last line of his new track "The Heart Part 4", the rapper may be teasing an  April 7 release date.
"Y'all got 'til April the 7th to get y'all shit together," he concluded on the raw track he released Thursday night. Stream it via the link below.
Lamar used a similar tactic to tease the release of his second studio album, good kid, m.A.A.d city, on his track "The Heart Part 3."
"Will you let hip-hop die on Oct. 22nd?" he rapped at the end of the song. The album then dropped on Oct. 22, 2012. 
Earlier this month, Lamar confirmed that he was making a new album in an interview with T: The New York Times Style Magazine. His fourth studio album will be an "urgent" project, made with his community in mind. 
"I think now, how wayward things have gone within the past few months, my focus is ultimately going back to my community and the other communities around the world where they're doing the groundwork," he said in the interview.
This untitled project would be the follow-up to Lamar's third album, To Pimp a Butterfly.
Mic has ongoing Kendrick Lamar coverage. Please follow our Kendrick Lamar hub here.