Hosni Mubarak, Egypt's ousted president, released after six years of detention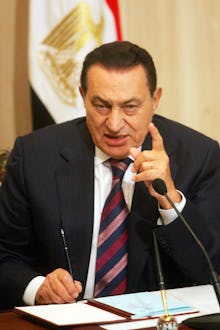 On Friday, former Egyptian president Hosni Mubarak was released after serving six years in prison following the overthrow of his regime during the 2011 Arab Spring. 
Mubarak, 88, was released from a military hospital — where he has been treated for heart and stomach conditions — and sent to his home in a Cairo suburb, CNN reported. 
In June 2012, Mubarak was convicted of complicity in the killings of more than 800 anti-government protesters during the 2011 Egyptian revolution. Mubarak was sentenced to life in prison. Five years later, on March 2, Egypt's top courts acquitted Mubarak's murder charges .
Mubarak served as the African country's 4th president for 30 years following the assassination of former Egyptian President Anwar Sadat. His term was abruptly ended after widespread protests, originating from Tahir Square, forced him to resign.
Several Twitter users react to Mubarak's acquittal and release from detention: