Ads praising GOP senators for Obamacare repeal that didn't happen still aired Friday night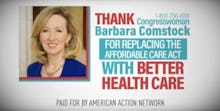 When it came to the Obamacare repeal, some people thought it would be nothing but net for Republicans. 
It was not. 
On Friday night, center-right PAC American Action Network aired ads in several right-wing districts congratulating Republican legislators on the Obamacare repeal — even though no such thing happened. The ads aired during Friday night basketball, Deadspin reported. 
According to Deadspin, one ad for Virginia congresswoman Barbara Comstock ran during a Wizards-Nets showoff. 
The short-sighted ad opens by claiming that "Republicans are keeping their promise with a new plan for better health care, more choices and lower costs." 
"No more big government penalties or job-killing mandates," the ad says triumphantly, despite Republicans' astounding loss. 
According to Deadspin, similar ads ran congratulating California's David Valadao, Iowa's David Young and Texas' Will Hurd. 
Despite promising ad nauseum to repeal Obamacare, Trump was unable to garner the amount of votes needed to defeat the health care law. 
In the wake of his defeat, Trump blamed Democrats for killing efforts to pass the Republicans' health care bill, according to the New York Times.