Texas family broadcasts ICE arrest on Facebook: "You Trump supporters happy?"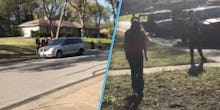 On Tuesday, Texas resident Robert Espino broadcast on Facebook as U.S. Immigrations and Customs Enforcement, together with the DeSoto Police Department, arrested his brother and his brother-in-law. 
Mundo Hispánico identified the two people arrested as Eduardo Díaz and Marín Márquez. 
"My brother and brother-in-law were cuffed and taken away from their families," Espino wrote. "They are not drug dealers, rapists, thieves, not even a traffic ticket. They leave behind wives, sons and daughters. This [is] what Donald J. Trump supporters wanted — to see families torn apart because of where you're born." 
The video depicts authorities stopping Díaz and Márquez inside a car.
"This is for y'all motherfuckers that voted for Trump," Espino said. "Breaking up families and shit. DeSoto's fucking finest, ain't got shit better to do. Fucking with families don't catch real fucking criminals. You Trump supporters happy? My 9-year-old niece getting her father taken away from her." 
According to Dallas' La Grande 107.5, Márquez was undocumented and arrested for a traffic infraction. Mundo Hispanico reported that Márquez was in the process of getting his documents. 
Hispanico reported that Diaz, 35, has two children and that his eldest daughter watched as he was arrested. According to the family, Diaz was on probation after being found guilty 20 years ago for being in a relationship with a 15-year-old, when Diaz was also a teenager. 
The outlet also reported that ICE did not respond to a request for comment and that the Mexican consulate in Dallas is working with the family. 
Loved ones set up a GoFundMe to assist the families of Márquez and Díaz after their arrest.