White supremacist who stabbed NYC black man says it was practice for Times Square massacre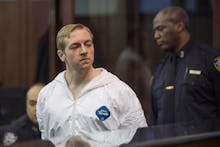 Twenty-eight-year-old James Harris Jackson, the white supremacist who allegedly stabbed 66-year-old Timothy Caughman to death on Monday night, told police that his stabbing "was practice" for a larger attack against black men that he planned to carry out in New York's Times Square, CBS News reported. 
Jackson told police he traveled to New York City from Baltimore "for the purpose of killing black men" and that he had stalked potential victims prior to choosing Caughman. 
Jackson killed Caughman as he was gathering bottles to recycle around the corner from his home. He was charged with murder as a hate crime. 
"The defendant was motivated purely by hatred," assistant district attorney Joan Illuzzi said, according to CBS News. Illuzzi added that the charges may be upgraded because "this was an act most likely of terrorism."
In the wake of the killing, the New York Daily News chose to focus on Caughman's criminal record, despite the fact he was the victim of a vicious crime. Mic later reported that Caughman was an avid autograph collector, a home health care aide and that he "love[d] America."