Pizzagate truthers rallied in Washington DC for the very fake conspiracy theory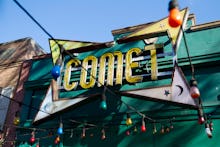 Pizzagate, a conspiracy theory that alleges leaders of the Democratic Party — including Hillary Clinton — are running a child-sex-slavery ring out of the basement of a Washington D.C. pizzeria, has been debunked time and time again. 
That, however, didn't stop a group of believers from convening in D.C., rallying for awareness of the very fake story.
Reporters from The Hill took photos and tweeted out brief interviews with the scattered protesters who set up a stage near the White House.
Families in matching shirts stood alongside scattered protesters in Guy Fawkes masks. Attendees came to D.C. from as far as California, Florida and Canada to attend the rally.
One speaker came up to discuss the true story of several missing black girls in the city. She mentioned "white privilege" and was promptly booed.
This isn't the first time the Pizzagate conspiracy veered off the internet and into real life. In early December, Pizzagate reached a dangerous head when one of its adherents, a man named Edgar Welch, drove up the East Coast to investigate whether the rumors were true or not.
He showed up at Comet Ping Pong, the alleged site of the conspiracy, with an assault rifle — and later pled guilty to assault with a dangerous weapon.
Alex Jones, the famed Infowars conspiracy theorist and talk-show host, issued an apology earlier this week for his hand in propagating the hoax, admitting his part in spreading misinformation.
"To my knowledge today, neither Mr. Alefantis nor his restaurant Comet Ping Pong, were involved in any human trafficking as was part of the theories about Pizzagate," Alex Jones said on air, reading from a prepared statement.
So what do the remaining Pizzagate truthers think of Jones' apology now that he's backed away entirely?
Apparently, this is just evidence that Pizzagate goes deeper than they all initially thought.