'Girls' season 6, episode 7 recap: Let Elijah be a star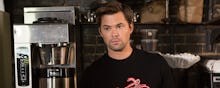 As the final season of HBO's Girls comes to an end, the series is giving its characters their own paths to follow. Hannah is pregnant. Life isn't going as planned for Marnie. Adam is directing, and Elijah is trying to figure it out. 
In episode 7, titled "The Bounce," Girls is at its best. With little focus on Hannah, we get to see the characters around her continue to develop. Elijah's passion for his acting career is renewed at an open-call audition for a musical adaptation of White Men Can't Jump. Our problematic favorite, Marnie, comes to reality very quickly, and Hannah reconnects with Paul-Louis. 
While their stories are all separate, the characters are all united in the episode. They are all given their own wake-up calls, and it becomes clear it's time for them to make life-changing decisions — for better or worse. 
Elijah
Let's start with Elijah. Before he can attempt to get to his audition, he is confronted by his past: Dill returns. Hiding out from the paparazzi, he shows up at Hannah's apartment unannounced. It throws Elijah off but, in turn, greatly helps him with his audition. 
When he arrives at his open call, he almost leaves. But he befriends Athena, another actor who helps him through his issues with Dill and gives him some life advice. "Men are only on this Earth to buy us jeans," she tells him, which is the damn truth. She follows that wisdom up later with, "Good dick is a prison" and, honestly, we're ready for her to help us realize our mistakes. 
In an unexpected twist, the auditions go well. He gets to move forward with the auditions after singing "Let Me Be Your Star" from Bombshell, a musical from the TV show Smash. Some choreography is required for the role, and he does well with one routine but not the other, leaving him defeated after the audition. When he gets back to the apartment, he defiantly tells off Dill and ultimately finds some closure with him — and then they sleep together. The next morning Elijah gets his callback. The moral of the story is that Smash helps everyone find their dreams. 
Marnie
We catch up with Marnie, who has been evicted. She asks her mom for a small loan over FaceTime and doesn't even flinch. After her mom declines, Marnie attempts to pawn her precious locket her parents gave her. In trying to sell it, she discovers that the locket she's cherished for years, thinking it is worth thousands, is actually just plated pewter. Not only that, it's less than 20 years old, too. 
To add insult to injury, she tries to sell her diamond earrings as well, but they're glass not diamonds. Marnie crumbles on the spot and blames everyone for her life being a mess. The jeweler isn't having it and does what we've all wanted to do since season 1 of Girls: He tells her to get a grip. 
"It sounds to me you're doing a lot of blaming. Your mother, your father, your husband," he lays it out for her. "You know who comes into pawn shops? Junkies, thieves, dentists who have lost their licenses due to sexual abuse," he continues. "The liar is you." 
After this moment, Marnie comes to some sort of realization. She needs to fix things, and step one is moving out of her apartment. 
Hannah
While Elijah is at his audition, Hannah is stuck at home with Dill, who puts together that she's pregnant. "I have 14 Emmys. I know when someone's keeping a secret from me," he says to her, continuing the great one-liners from this episode. The two have a discussion about the importance of the father in the child's life, which ultimately convinces Hannah to call Paul-Louis. 
"I'm just kinda doing my moral and ethical duty to keep you informed, and let you know that I'm pregnant," she tells him over the phone. Hannah continues to figure out her new life as an expecting mother and choosing to tell the father was another step in that journey. While he wishes her good luck after his initial shock, he doesn't offer any other form of support. Well, besides suggesting the name "Grover" for the child. 
Hannah and Dill have their own moment when she confesses that she wanted it to be easy. While the phone call was seamless, she admits that she feels alone. "I guess I thought I could just be this bravo, cool, young mom with tattoos with a cool approach to things," she says while crying. The two hug and both are reduced to tears. 
Episode 7 was another chapter in the final season of Girls. We continue to see these characters grow. They're moving down their own paths, and while not everyone is along for the ride, they're on similar journeys of finally growing up. 
Mic has ongoing Girls coverage. Please follow our main Girls hub here.