Cincinnati nightclub shooting: 1 dead, at least 14 injured at Cameo Night Club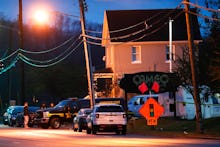 A shooting took place early Sunday morning at the Cameo Night Club in Cincinnati, Ohio, CNN reported, leaving one dead and at least 14 injured.
The incident occurred shortly after 1:00 a.m. EDT, and Cincinnati Assistant Police Chief Paul Neudigate reported there was one shooter involved. He still remains at large.
"We are in the middle of a very horrific situation that occurred at the nightclub with multiple victims," Neudigate told WLWT. "It's going to be a long night for our homicide units to investigate."
Police are currently interviewing witnesses, one of whom told WLWT that the club's DJ called for security approximately 10 minutes before the shooting.
"It was just a lot of chaos, obviously, when the shots went off," Cincinnati Police Department Capt. Kimberly Williams told CNN. "People [were] just trying to get out of harm's way."
The police, who are working with the Bureau of Alcohol, Tobacco and Firearms on the ongoing investigation, are not calling the incident an act of terror at this time, WLWT reported. 
This isn't the first shooting to take place at the nightclub, WLWT noted, which is located on Cincinnati's East End and admits anyone over the age of 18. Two shootings took place at the nightclub in 2015, though both incidents reportedly involved only one victim.
Gov. John Kasich took to Twitter on Sunday to express his condolences about the shooting, and said he has "instructed our administration to offer any assistance the state can provide."