Trump plugged Jeanine Pirro, who then called for Paul Ryan's resignation on her show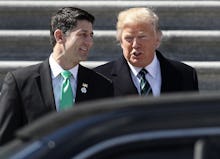 In the wake of Friday's health care failure, President Donald Trump was quick to blame Democrats and the House Freedom Caucus — but, crucially, not Speaker of the House Paul Ryan.
"I want to thank Paul Ryan," Trump said from the Oval Office on Friday. "He worked very, very hard. I will tell you that."
Though the politicians' aides told Politico that "the rapport between the two men is good" following the pulled vote, a recent tweet by the president suggests he may be more displeased with Ryan than he lets on.
On Saturday, Trump cryptically sent out a tweet urging his followers to tune in to the Fox News program Justice with Judge Jeanine — during which host Jeanine Pirro just so happened to call for Ryan's resignation.
Pirro's opening statement was heavily critical of Ryan, asking, "How could you possibly misjudge this?" 
"Speaker Ryan, you come in with all your swagger, and experience, and you sell them a bill of goods, which ends up a complete and total failure," Pirro said. "And you allow our president, in his first 100 days, to come out of the box like that? Based on what? Your legislative expertise? Your arcane knowledge of the ins and outs of the bill writing process? Your relationships? What? Your drinks at the Hay Adams with your pals?" 
Pirro was exceedingly kind to Trump, on whom she declined to put any of the blame, despite noting she "certainly [has] not spoken to [Trump] about this." The president, Pirro insisted, was "handling this with dignity."
"Folks, I want to be clear: This is not on President Trump," Pirro said about the president. "No one expected a businessman to understand the nuances, the complicated ins and outs of Washington and its legislative process. How would he know which individuals upon whom he would be able to rely?"
"The American people won't forget this," she said. "And neither should the president."
The Fox News host's hardline stance on Ryan, however, doesn't seem to be echoed by the speaker's colleagues in the House. When asked about Ryan's potential removal as speaker on ABC News, Freedom Caucus leader Rep. Mark Meadows clarified that "there is no conversations going on right now with regards to replacing the speaker." 
"We're committed to work with the president, the speaker — the current speaker — and make sure that what we do is get some consensus," Meadows said.