'OITNB' actress Samira Wiley and writer Lauren Morelli marry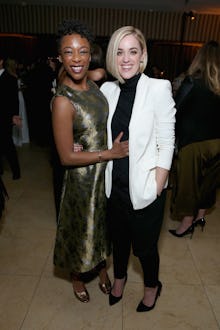 After helping bring some of television's best love stories to life on Orange Is the New Black, actress Samira Wiley and OITNB writer Lauren Morelli have now added a new chapter to their own.
As reported by Martha Stewart Weddings, the couple tied the knot Saturday at a ceremony in Palm Springs, where the two were first engaged.
The "fun-filled fête," which will be featured in an upcoming issue of Martha Stewart Weddings, included an outdoor ceremony officiated by Wiley's parents, a recession set to Montell Jordan's "This is How We Do It" and a blast of confetti to punctuate the couple's first dance. Both women wore custom Christian Siriano gowns for the occasion.
Wiley — who portrayed Poussey Washington on OITNB and stars in the upcoming Hulu series The Handmaid's Tale — and Morelli first met on the set of the Netflix hit.
"Being able to write words for someone as talented as she is, watch her perform what I write and then go to bed with her is the best thing," Morelli said about working with Wiley in an interview for Out.
Morelli shared her coming-out story in an essay for Mic, writing that while she was married to a man when she began work on the show, her "life fell into a parallel rhythm with [OITNB character] Piper's story in a way that went from interesting to terrifying in a matter of months."
"I am now out to my family, my friends and most of my coworkers on Orange (and now to you, dear reader)," Morelli wrote. "Now, when I am in the writers' room or on set, I no longer feel like I am stuck in the middle of two truths. I belong because my own narrative fits in alongside the fictional stories that we are telling on the show: stories of people finding themselves, of difficult paths and of redemption."