Meet the filmmaker building a media empire alongside Frank Ocean and Tyler, the Creator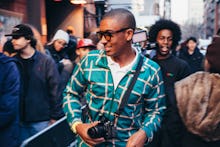 When Mikey Alfred started filming skate clips of his friends and the collective of musicians that would become Odd Future, the group was skeptical of having its antics recorded by this quiet kid in background. But after seeing the funny compilation videos of pranks, tricks and boisterous loitering around Los Angeles that Alfred edited together, the young filmmaker became one of the collective's own. 
Supported by young but meaningful connections with Frank Ocean and Tyler, the Creator, Illegal Civilization was born. What started as a one-man production company has since grown into a skate team and clothing brand that the 21-year-old Alfred is working to build into a full-fledged media company. Having produced for videos brands like Vogue and contributed to Ocean's Blonde, he's racked up an impressive list of early achievements.
On Thursday, Alfred and the Illegal Civilization crew premiered a new short film starring Mac Miller at New York City's Webster Hall. The event featured performances from a wide range of musical acts, including Leven Kali, rising New York hardcore outfit Show Me the Body, and surprise sets from Chicago drill favorite G Herbo and "Caroline" rapper Aminé. Alfred was in the middle of it all, setting price points at the merch stand, shooting alongside three other videographers and addressing the crowd, encouraging those in attendance to follow their own creative pursuits and build something within their own social circles.
Before the event, Mic spoke with Alfred to discuss his next project, the feature-length documentary behind the making of Tyler, the Creator's album Cherry Bomb, what he's learned from his famous friends and where he wants to take Illegal Civilization next.
Mic: Tell me a bit about how Illegal Civilization came together.
MA: When I was 12, I made a video called "Spark of Life," and we needed a name for the second video, and that's where the name came from. That's what we wanted to call the video. As the videos got more popular and popular, it was kind of a business decision at first to start making clothes. And then I started to actually like doing that, too.
We went from just skating and only doing skate videos into touring with Tyler and Frank Ocean, YG, all these different people. Now we're writing scripts and doing short films. And with the clothes, it's grown from just one shirt on a Big Cartel, to us being stocked in 50 Zumiez, 50 Urban Outfitters, doing serious business and competing with brands that I looked up to when I was a little kid.
What drew you to film as a kid?
MA: The Simpsons. I loved The Simpsons. That was probably my biggest, early influence. My mom didn't let me watch it on TV for the longest. I would go to Blockbuster and buy or trade video games for The Simpsons DVDs. At first I was watching it and sneaking it, or I would have it on DVD and be like, 'Okay, I'm going to get through season one on this Saturday.'
What was it about the show that you liked?
MA: At the time I couldn't pinpoint why. Now when I watch it, it's like the smartest and most subtle of all the other cartoons, and the animation is so colorful and so specific. You can show someone any still from The Simpsons, and you know it's The Simpsons. It doesn't matter if there are no characters in it, you can just tell. I try to do that with my shit, where if you just saw a shirt, you're like, 'Oh, that's an IC [Illegal Civilization] shirt,' or if you just paused the video, 'Oh, that's an IC video.'
How did the documentary for Tyler, the Creator's Cherry Bomb come together?
MA: We worked on the Cherry Bomb documentary for two years, and I was just constantly filming, and it came about because I had all this footage collected and I had all these baby edits that I would show Tyler every two or three months. And then I started to work on serious edits, where I had a 20-minute cut and I'd show it to him, and he'd be like, 'Oh, dude, this is amazing, let's keep going.' 
Once I had something that was like an hour long, we would meet every few days and cut it down, cut it down, add new things, find old clips that we forgot about and add those in, so it was just super organic. Going out filming everyday, and then keeping track of all that footage in a super-organized way.
How did your relationship with Tyler develop?
MA: When I first came around, I had already been filming for the past three or four years, so naturally I would just film [Odd Future], too. It was funny because at the beginning, they would be like, 'Yo, this nigga is just filming, and he's never talking, and it's so weird.' Then they saw my first video that they were in and they were really impressed. 'Oh, this is funny, and it really represents us as a friend group.' That's kind of what let me stick around, just them seeing my work.
You were name-dropped in Frank Ocean's latest single, "Chanel." What was your reaction to the mention?
MA: He sends me songs sometimes, just for me to hear it. When he sent me that one, it was maybe two months before it was released, and I heard the shout-out and I was like 'Oh, that's so sick.' He texted me like, 'Yo, I just shouted you out on a song,' and sent me "Chanel," and I was like 'Wow, that's so cool.' 
But because he sent me so many other songs that have never come out, I'm like, obviously this one isn't going to come out, either. And then randomly when everyone starts texting me and tweeting me like, 'Oh, clips on clips,' I'm like 'Wow, this is so cool, it actually released.'
What have you learned from Frank with regard to how you approach your business and creative endeavors?
MA: Something I learned from him is to know what you want out of other people and force it out of them. If he's working with someone and they're talking to him crazy, he doesn't stand for it. Immediately he's just like, 'Hey, my man, let's not talk on that level. You got to respect me the same way I'm respecting you.' I always thought that was so dope. He's never letting problems bubble. The second he has a problem with it, he addresses it. That's something I really took from him.
What do you think of the internet? Tool? Asset? Something in-between?
MA: The internet is the greatest thing ever. You can learn anything you want. You can teach anything you want. If you say that it's not a tool or try to discredit it, I hate when people do that. 'Yeah, I would never look at Instagram.' Shut the fuck up. I hate when people [businesses] are like, 'We don't even care about our Instagram.' Yes, you do, and if you don't, you should.
Why is that?
MA: I think it's just a thing of being comfortable. I think people are so scared to say that they care about the internet and that they like the internet. People love to act like nothing matters to them. People love to be like, 'I don't care.' I'm the opposite. I do care, I do give a fuck. I give a fuck about what the caption says, how it's spaced and how many words are used. Every little thing that comes from this company has to be fire.
What do you think about the state of Hollywood for young people of color trying to break in? Do you think that's a viable path, or is there a better way?
MA: I think the best way to break in is by doing your thing and building up your own following, and then when you go to these companies to pitch something, you're at a little bit higher of a level than if you didn't have anything. Everyone has some kind of social media following, everyone has YouTube subscribers, that's almost like the base. You have to start there now. It's not the same. 
Don't get me wrong, having Instagram followers and social media doesn't mean you'll get a show. It just makes it easier to get in the room and get the conversation going. So I think right now, if you like making movies or TV or whatever it is, right now is the perfect time. 
It's like Quentin Tarantino said: 'Everybody makes movies, everyone makes shows, but they're just waves on the beach.' If you can come through and make a tsunami, or even make a big-ass wave ... boom, it's needed. Everybody makes music, everybody does this, everyone does that, but no one can do it like you do it. Nobody can make that tsunami.
You've been partnering with companies and other publications on content. What are you hoping to accomplish with that?
MA: I'm just trying to set a standard for myself so that if a company wants to fuck with me, they got to be on that certain level. If you're not in this realm, don't even come over here. 
I'm trying to set that boundary now, where I'm only trying to work with Apple, or Mountain Dew, or Vogue, or The Fader. Not because they're the biggest; they're the most tasteful. Apple's taste is impeccable. Vogue's taste, fire. The Fader, flames. Even the reason we're doing this right now, I looked at the website [Mic] and I was like, 'I'm in line with this website's taste. I'm into the things that they're covering, and I liked all the political pieces, and I like the voice that they're speaking from.' 
I'm just trying to align IC with brands that have amazing taste.
Where do you want to see Illegal Civilization go?
MA: I'm trying to set IC up so that it's a production company like HBO. We can host content, we can create content ... whether that's movies, TV, sports, whatever you need, we got it.