Steve Bannon: Why Trump's right-hand man apparently wanted Jeff Sessions for president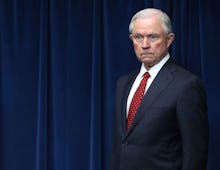 The New York Times magazine on Sunday published an extensive profile on the apparent gulf between President Donald Trump and the Republican-controlled Congress. In the article, reporter Robert Draper described his lengthy conversation with White House chief strategist Steve Bannon. 
During the course of their discussion, Bannon let slip that Trump had not been his original choice for the job — instead, Bannon wanted Attorney General Jeff Sessions to run for president.
In January 2013, shortly after then-President Barack Obama defeated Republican presidential candidate Mitt Romney in the 2012 election, Bannon invited Sessions — a man who was passed over for a federal judge position for being irreconcilably racist — to a five-hour-long dinner. Bannon told Draper he made Sessions a proposal: "We have to run you for president."
Why? Because Bannon believed the then-senator from Alabama, a nationalistic populist, could rally the disillusioned white working class that had sat out the election — the millions Bannon said felt alienated at having their jobs and industries outsourced to China. Bannon wanted him to be a populist wake-up call to, and a repackager of, the GOP.
"Look, you're not going to win," Bannon told Sessions, according to Draper. "But you can get the Republican nomination. And once you control the apparatus, you can make fundamental changes. Trade is No. 100 on the party's list. You can make it No. 1. Immigration is No. 10. We can make it No. 2. ... You'll be the anti-candidate." 
Sessions didn't bite, but Bannon quickly found his man at the Conservative Political Action Conference in March 2013. Trump gave a speech hammering on the dangers of China, undocumented immigrants and a flagging manufacturing industry, which led Bannon to brand Trump "a nationalist who embraces Senator Session's plan." 
Trump eventually announced his intention to run for president on exactly the platform Bannon and Sessions had outlined — and Bannon eventually maneuvered his way into the inner circle, moving from publisher of reliably admirable Trump news at the alt-right media company Breitbart to top Trump advisor. Sessions, of course, is now Trump's attorney general and, in the Washington Post's estimation, "the intellectual godfather of the president's policies."