Hundreds arrested in Moscow during protest of Russian government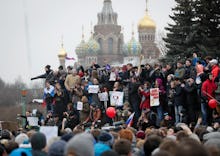 On Sunday, thousands of people congregated in Moscow for the largest nationwide protest of the Russian government the country had seen in at least five years.
As police and opposition clashed, more than 700 people were arrested, according to CNN, including noted Kremlin critic Alexey Navalny. 
In a statement, acting State Department spokesperson Mark Toner said that the U.S. Government "strongly condemns the detention of hundreds of peaceful protesters throughout Russia on Sunday."
"Detaining peaceful protesters, human rights observers and journalists is an affront to core democratic values," he said.
Below are photos of the historic protests, which stand to galvanize opponents of Russian President Vladimir Putin just in time for his 2018 reelection bid.
Opposition protesters participate in an anti-corruption rally in St. Petersburg, Russia.
Riot police detain a protester at an anti-corruption rally in Moscow.
Kremlin critic Alexey Navalny attends a hearing at a court in Moscow after he was arrested for protesting.
Police detain a protester in Downtown Moscow on Sunday.
Protesters gather outside the Alexander Pushkin monument in Downtown Moscow.
Riot police detain a journalist during Sunday's protests in Russia.
A protester flashes peace signs from the back of a police bus after being detained.