Trump taps son-in-law Jared Kushner to lead new White House office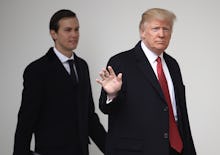 Donald Trump has a plan to cut through red tape in Washington, and he wants his son-in-law and senior adviser Jared Kushner to be the scissors.
According to the Washington Post, the president is poised to announce Kushner as head of a new White House office Monday that is designed to specifically tackle federal bureaucracy. The office will reportedly draw upon "ideas from the business world" to find ways to make the president's key campaign initiatives — including curbing opioid addiction and reforming the care that veterans receive — more feasible.
"All Americans, regardless of their political views, can recognize that government stagnation has hindered our ability to properly function, often creating widespread congestion and leading to cost overruns and delays," Trump told the Post in a statement. 
"I promised the American people I would produce results, and apply my 'ahead of schedule, under budget' mentality to the government."
The announcement of the new office comes on the heels of a grueling defeat for the Trump administration last week, after it was forced to pull its first serious piece of health care legislation, which was aimed at unraveling the Affordable Care Act, amid flagging Republican support.
The goal of the White House Office of American Innovation, as the new team will be called, seems to be to help Trump establish a legacy he can be proud of by using distinctly non-Washingtonian means.
"We should have excellence in government," Kushner said during a Sunday interview with the Post. "The government should be run like a great American company. Our hope is that we can achieve successes and efficiencies for our customers, who are the citizens."
Kushner and his wife — Trump's daughter Ivanka — have been featured prominently thus far in the young administration. Ivanka particularly has served as a noted adviser to the president, maintaining an office at the White House and frequently sitting in on meetings with foreign dignitaries, and has drawn criticism from some circles who believe that Trump's appointments of family members to key positions threaten to violate nepotism laws.