Report: North Carolina's "bathroom bill" will cost the state $3.8 billion in lost business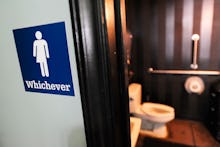 Despite promises by Republicans that North Carolina's infamous "bathroom bill" won't hurt the state's economy, a new analysis from the Associated Press has found the legislation could result in lost business to the tune of $3.76 billion.
The AP report found that HB2 — which prevents transgender people from using the bathroom corresponding to the gender they identify with and chips away at protections for the LGBT community — has racked up hundreds of millions of dollars in lost business and abandoned deals since it was passed in the state one year ago.
As businesses and artists boycott the state in protest of the discriminatory law, so, too, do their wallets. The AP specifically mentions collapsed plans with PayPal to build a new North Carolina facility (an estimated $2.66 billion loss by the year 2028) and a cancelled concert by Ringo Starr ($33,000 in revenue missed for a town theater in which he was set to perform) as just two examples of money the state has lost out on since the bill became law.
The report also notes that North Carolina residents were deprived an estimated 2,900 jobs, which went elsewhere as a direct result of the bill.
And, predictably, it gets worse: The state stands to lose even more money in future withdrawn deals. The NCAA, which frequently uses North Carolina as the location of its championship games, has sworn off the state through 2022 "as long as the law is on the books," the AP notes.
North Carolina has also lost big on tourism dollars, after major cities including Boston, Chicago and the District of Columbia banned government-sponsored travel to the state in the wake of the bill's signing.
Shelly Green, CEO of the Durham Convention and Visitors Bureau, told the AP that the most immediately quantifiable impact is "how many times our phones are not ringing right now."
 "When you think about it, this whole thing is just such a dumpster fire, and nobody wants to go near it," she said.