Jared Kushner: Why the Russia probe has led investigators to Trump's son-in-law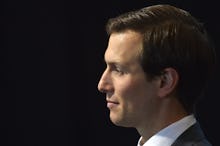 The Senate Intelligence Committee plans to question Jared Kushner — President Donald Trump's son-in-law and close adviser — in its investigation into potential ties between the Trump administration and Russian officials, the New York Times reported. 
Senate investigators will reportedly press Kushner on meetings he arranged with Russian ambassador Sergey Kislyak, government officials told the New York Times, in addition to a "previously unreported sit-down with the head of Russia's state-owned development bank."
Although the White House previously acknowledged the meeting between Kislyak and Kushner at Trump Tower in December, his subsequent meeting with Sergey Gorkov, the chief of Vnesheconombank, had been kept quiet.
White House spokeswoman Hope Hicks confirmed to the New York Times that those meetings did, in fact, happen, but said that Kushner had nothing to hide.
While FBI Director James Comey endured a high-profile hearing in March and Paul Manafort, who temporarily served as Trump campaign manager, offered to voluntarily go before the Senate Intelligence Committee, Kushner would become the closest person to Trump himself and the first person currently on staff in the White House to be interviewed. 
Although Kushner meeting with Kislyak in his capacity as a member of Trump's transition team doesn't necessarily speak to any wrongdoing, connections to Kislyak have already landed a number of other officials in hot water.
In February, former national security adviser Michael Flynn handed in his resignation after it was discovered that he privately discussed U.S. sanctions against Russia with the Russian ambassador. 
In March, Attorney General Jeff Sessions was forced to recuse himself from investigations relating to Trump and Russia after it emerged that he, too, had met with Kislyak while the campaign was still ongoing.
According to the New York Times, Kushner's meetings with Gorkov overlapped with his time as the chief executive of his family's real estate empire, and investigators plan to ask whether or not the conversations he had with the Russian banker had anything to do with funding he was seeking for a Manhattan office tower at the time.