'Girls' Season 6 Spoilers: What will happen in episode 8?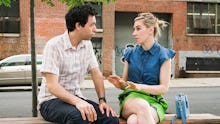 After season six, episode seven of Girls, the HBO series continues to wrap up some loose ends in its final season. 
Marnie was evicted, Hannah told the father of her unborn child that she's pregnant and Elijah got a callback. It was another episode of the final season that is helping these characters on their respective journeys. 
Writer, creator and star, Lena Dunham, is putting all her characters on their own paths towards the end. Some may have closure in the final season, while others will still have to discover what happens next. For those looking for closure between Adam and Hannah, the next episode might give you that. 
We now have a sneak peek at episode eight of Girls titled, "What Will We Do This Time About Adam?"
In episode eight, we'll be reunited with the other characters from the series. Shoshanna hasn't really been there that much this season, so it'll be nice to see her back. According to TV Guide, in episode eight she assists Ray with a new oral history project. While she helps Ray, she bumps into an old boss and the two meeting again helps her and Ray with the project. 
We welcome back Adam, who is coming to some realizations about his feelings for Hannah. The two reconnect again to discuss their past and their possible future. And Jessa is just there being Jessa. 
We'll have to wait and see if Adam and Hannah reunite or finally part ways for good. You can catch the final episodes of Girls on HBO at 10:00 p.m. Eastern on Sundays.
Mic has ongoing Girls coverage. Please follow our main Girls hub here.