What's the American Innovation office? 3 key takeaways on Kushner's new White House role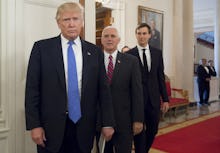 President Donald Trump will announce Monday that his son-in-law and senior adviser, Jared Kushner, will head the new White House Office of American Innovation. 
The office is tasked with overhauling the public sector by using a business-minded approach to bureaucracy. In an effort to do good on a signature campaign promise, Trump hopes Kushner will act as the drain to the federal government swamp. 
Trump told the Washington Post in a statement Sunday:
"All Americans, regardless of their political views, can recognize that government stagnation has hindered our ability to properly function, often creating widespread congestion and leading to cost overruns and delays I promised the American people I would produce results, and apply my 'ahead of schedule, under budget' mentality to the government."
Trump's big announcement on the government shakeup comes just days after a stunning defeat: The GOP was unable to whip enough votes Friday to repeal and replace the Affordable Care Act, nicknamed Obamacare — another major campaign promise. 
While overhauling health care was not a success, the White House and Kushner appear optimistic that the 36-year-old will be able to dissolve federal bureaucratic inefficiencies.
Here are three key takeaways about Kushner's new role and office. 
1. Kushner's already wide-ranging role in the White House is getting bigger.
Kushner's role is already multifaceted and far-reaching. As a senior adviser to Trump, he has involved himself in everything from foreign policy to reportedly choosing administration officials. 
Kushner was heavily involved in Trump's campaign for president. "It's hard to overstate and hard to summarize Jared's role in the campaign," high-profile Trump supporter and Silicon Valley mogul Peter Thiel told Forbes. "If Trump was the CEO, Jared was effectively the chief operating officer."
It would appear Kushner is playing a similar role in the administration. 
Some opponents and lawyers are concerned Kushner's job encroaches on anti-nepotism laws. The expansion of his influence will presumably reinvigorate this argument, as will the fact his wife, the president's daughter, Ivanka Trump, will reportedly collaborate with his new office. Ivanka was recently appointed Trump's unofficial adviser and controversially given an office in the West Wing. 
The Department of Justice ruled in January that Kushner's role as senior adviser did not violate the law, arguing the White House is not technically a government agency and that Trump has "special hiring authority." But Kushner and Ivanka may receive renewed scrutiny as a result of their involvement in this high-profile office.
2. Kushner will be cutting a lot of red tape — but the longterm impact is unknown.
Kushner is expected to bring his ample business experience to the new role. He took over the family business in 2004, officially becoming CEO in 2008, after his father was charged with and sent to prison for tax evasion, illegal contributions to political campaigns and intimidating witnesses — namely, his sister and brother-in-law.
"We should have excellence in government," Kushner told the Washington Post Sunday, from the West Wing. "The government should be run like a great American company. Our hope is that we can achieve successes and efficiencies for our customers, who are the citizens."
Reducing the reach of the federal government has been a priority for the Trump administration, which suggests the American Innovation office will take a similar approach to addressing government efficiency. This translates into shrinking the public sector and letting the private sector take its place. 
One of the new office's key players, Dina Powell — Trump's economic initiatives senior counselor and deputy national security adviser — is known partly for her focus on job creation via public-private partnerships.
But some economists and specialists argue letting the private sector take the public sector's place could be harmful, as Harvard Business Review noted. With the primary motive of making profit, critics argue, companies might render crucial services unaffordable to millions of people. They say the longterm costs to government could exceed cost-saving initiatives in the present.
3. Veteran care, opioid addiction, workforce development and the tech industry will be priorities. 
Big players in the tech and data industries are set to advise Kushner and his office on how to improve government efficiency. These include Apple CEO Tim Cook, Tesla and SpaceX founder and CEO Elon Musk, Salesforce founder and CEO Marc Benioff, IBM CEO Ginni Rometty and former Microsoft CEO Bill Gates. 
It comes as little surprise, then, that one of Kushner's key priorities is "modernizing the technology and data infrastructure of every federal department and agency," the Washington Post reports.
Among the small number of other focus areas declared by the White House are veteran care reform, combatting opioid addiction and programs for workforce training.
The goals of the new office may change once it's in operation. But one of the few certainties from this announcement is the federal government can expect some major refurbishments and thinning out. If successful in his endeavor, Kushner could hand Trump a large part of his legacy.