'Smash Bros.' pro player Luhtie's racist tweet sparks debate on the limits of trash talk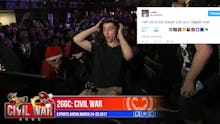 Over the weekend, the best Super Smash Bros. player in the world was removed from his throne in a shocking upset. Gonzalo "ZeRo" Barrios faced off against Arizona newcomer Andrew "Luhtie" Lataille during Civil War, a worldwide Smash Bros. tournament in California. In a first-to-three match that culminated in a heated fifth game, Luhtie came out on top, defeating ZeRo in his own tournament and shocking the crowd. 
You can watch the match for yourself here — it's riveting.
Luhtie's game-five win was impressive, and it brought instant recognition to an emerging talent in the competitive Smash world — and a spotlight on Luhtie's problematic Twitter history. 
One tweet in particular, posted in December, is drawing negative attention from the Smash Bros. community for his use of the N-word. "I will be a top player just you n*ggas wait," he wrote.
Following his recent victory, Smash Bros. fans quickly spotted Luhtie's tweet and began to respond.
In a direct message to Mic, Luhtie apologized "if I offended anyone," but downplayed the situation:
Honestly, I don't think it's a tweet worth writing about. It's something I made months ago and it was just a joke to my close friends since they were the only ones following me. I understand why people are mad and also understand why people aren't mad but I just think people are over complicating it for absolutely no reason. Sure I wish I used a different word but it was honestly just a joke and I never expected to gain 3,000 followers in a day. 
Luhtie's tweet sparks a debate in the Smash Bros. community
Luhtie's tweet has led to a debate within the Smash Bros. community about the line between innocent trash-talking and offensive remarks. Some people noted that people shouldn't waste time being mad because the tweet is several months old and isn't directed at any other person or group in particular.
Super Smash Bros. commentator Prog, who is black, told Mic in a direct message that he supports word reclamation, but perhaps not in this context. 
EE, one of the match's announcers, who is also black, argued that there isn't much to this controversy. "From what I understand, [it] was just made to be funny, not offensive (which I don't think it is)." EE wrote in a DM on Twitter. "Oversensitivity to a tweet is pretty corny."
The rest of the Smash Bros community seems torn on the issue as well. Luhtie has seen plenty of support on Twitter from fans who argue that the racist remarks are old news.
However, others have pushed back against those arguments, noting that three months doesn't make much of a difference and pointing to a wider issue of troublesome trash talk in the Smash Bros. community.
Some even pointed out that ZeRo is a Chilean player, which adds a new wrinkle to the already complex situation.
Why this matters
The most common argument in support of Luhtie is the time between his tweet and his win over ZeRo, arguably proving the message couldn't have been directed at the Chilean player. Luhtie may have meant nothing by his word choice, and ZeRo may not take it personally. However, a white person using the N-word on Twitter is just as offensive last December as it is three months later.
Luhtie's tweet could cost him potential fans and even sponsors. The Arizona player's win over Barrios is a historic moment in Smash history. Though for many players, the tweet turns Luhtie's shocking upset into something shockingly upsetting.
Check out more Super Smash Bros. coverage
Learn more about Super Smash Bros 4 on the Nintendo Switch, including Nintendo's president confirming the game, what the new amiibo could mean for the series and why you may have to wait until 2018. Here's why we could see new characters added to the roster (yes, including Rayman) and all the other games like Smash Bros that Nintendo hasn't confirmed that we can probably expect.