'Mass Effect: Andromeda' Price Cut: PS4, Xbox One and PC versions for less than full price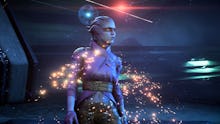 If you've been on the fence about picking up Mass Effect: Andromeda, maybe this will help: You can pick up heavily discounted copies on PC, Xbox One and PS4 right now. Don't expect bargain bin prices quite yet, but hey — any price cut makes a difference.
Here's what you need to know.
Mass Effect: Andromeda price cut on PS4, Xbox One, PC
Right now, the PS4 copy of Mass Effect: Andromeda is going for $54.52 on Amazon. If you have Amazon Prime, copies for both Xbox One and PS4 cost just $47.99.
Similarly, the deluxe edition — which gets you a handful of special items — is discounted to $60, but it's just $55.99 for Prime members.
If you prefer playing on PC, you can pick up a copy of the standard edition through Green Man Gaming for just $43.99 — a 27% discount. Not bad for a game that's just a week old.
More Mass Effect: Andromeda news, updates, tips and tricks
For more on everyone's favorite space opera, check out the rest of what Mic has to offer. Here's an essay on the troubling history of colonialism in Mass Effect, a story about the horrifying harassment campaign carried out against a former BioWare employee, a look at the #MakeJaalBi fan movement and an overview of the historic lack of gay romance options in Mass Effect.