Trump once said he would never see his golf courses again if he were elected president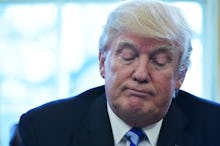 A recently resurfaced video of then-candidate Donald Trump shows him making a campaign promise that, only 66 days into his presidency, it's clear he isn't keeping. 
"I love golf, but if I were in the White House, I don't think I'd ever see Turnberry again," Trump said in February 2016 during a campaign stop in Portsmouth, New Hampshire, according to CBS News. "I don't think I'd ever see Doral again — I own Doral in Miami — I don't think I'd ever see many of the places that I have.
"I don't ever think I'd see anything — I just wanna stay in the White House and work my ass off, make great deals, right?" he continued. "Who's gonna leave?"
Trump's frequent golf trips
Trump, it turns out, does leave the White House now that he's president. He hasn't had to say goodbye to his golf courses at all. In fact, he's spent eight consecutive weekends away from the White House at his own properties, CNN reported Sunday, marking his 13th visit to one of his golf courses since taking office.
Despite frequent campaign criticisms of former President Barack Obama's golfing, since his inauguration Trump has spent time golfing at Trump International Golf Club and Trump National Golf Course, both in Florida, in addition to visiting his Virginia golf course, according to CNN. 
Earlier in March, White House press secretary Sean Spicer defended Trump's frequent golf weekends during a White House press briefing, Politico reported, arguing the president wasn't just taking vacations.
"On a couple of occasions he's actually conducted meetings there, he's had phone calls," Spicer said. "Just because he heads there doesn't mean that's what's happening."