Police officer discovers racist message on Wendy's receipt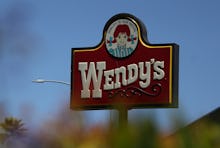 One Wendy's employee was feeling more than a little "frosty" when serving customers recently. 
On Tuesday night, a Florida Highway Patrol trooper was ordering at a Wendy's in Orlando, Florida, when he spotted a receipt with a racist slur next to the cash register, News 6 WKMG reported. 
"If my kids were here eating dinner, and I had to show them this receipt or say they saw it?" the trooper, who is black, told News 6. "My 6-year-old is learning to read and the first thing he would say is, 'What is this word?'"
Even though the employee did not say anything offensive to the trooper — he even thanked him for his service — the trooper told News 6 he would not return to a Wendy's until the restaurant improves employee training.  
The owner of the Wendy's franchise fired the employee involved in the incident. They issued the following statement to News 6:
While this receipt wasn't directed toward anyone in particular, we take this very seriously and find the language to be offensive and not in line with our values. This was a terrible judgment call by one of our employees, it's completely unacceptable and we no longer employ this individual.
The Orlando Wendy's isn't the first to deal with an employee serving up food with a side of racism. At one Colorado franchise, a child received a deck of cards with racial slurs instead of a toy in a meal, Eater reported in 2015, noting employees involved were later fired. 
But restaurant receipts seem to be an increasingly popular place for restaurant employees to leave targeted messages. In March 2016, a couple in Austin, Texas received a receipt for "black ppl" at an IHOP. 
And in June, a Papa John's employee labeled a pizza order "ching-ching," a derogatory slur. Papa John's apologized for the "mistake" but the woman who posted the slur called it what it was — racism. 
The Wendy's brand did not immediately respond to Mic's request for comment.