Bernie Sanders has a health care proposal that Donald Trump should already love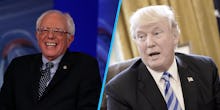 In the wake of the Republican Party's epic fail on health care reform, Sen. Bernie Sanders (I-Vt.) and other progressives have an alternative proposal — a single-payer health care system for everyone. Sanders said he plans to introduce what he calls a "Medicare for all" proposal "within a couple of weeks," according to Vermont Public Radio.
Sanders has previously proposed similar legislation for a government-sponsored system that would make health care a universal benefit, similar to the way Medicare covers all Americans 65 and older.
For years, Republicans have denounced such proposals as creeping socialism and government overreach, even going to far as to compare universal health care to slavery, despite the fact that several European countries have extant systems similar to Sanders's plan. Luckily, there is one Republican who has said on many occasions he supports such a plan — his name is Donald J. Trump.
Here are all the times Trump has praised single-payer health care.
October 1999
In 1999, Trump was flirting with the idea of an independent run for president. At the time he told Dateline that he was "liberal on health care" and that "we have to take care of people that are sick." Asked specifically if he was talking about universal health care he said, "I like universal." 
In a separate interview with CNN's Larry King around the same time, Trump said: "I'm very liberal when it comes to health care. I believe in universal health care. I believe in whatever it takes to make people well and better."
January 2000
In his 2000 book, The America We Deserve, Trump expounded on his support for universal care, and cited Canada's system as a gold standard.
We must have universal healthcare ... I'm a conservative on most issues but a liberal on this one. We should not hear so many stories of families ruined by healthcare expenses ... The Canadian plan also helps Canadians live longer and healthier than Americans. There are fewer medical lawsuits, less loss of labor to sickness and lower costs to companies paying for the medical care of their employees. If the program were in place in Massachusetts in 1999, it would have reduced administrative costs by $2.5 million. We need, as a nation, to re-examine the single-payer plan, as many individual states are doing.
That same year he told the Advocate that, if he were president, he would, "put forth a comprehensive health care program and fund it with an increase in corporate taxes."
January 2015
In early 2015, Trump appeared on the Late Show with David Letterman where he offered an anecdote praising the United Kingdom's single-payer health care system.
A friend of mine was in Scotland recently. He got very, very sick. They took him by ambulance and he was there for four days. He was really in trouble, and they released him, and he said, "Where do I pay?" And they said, "There's no charge." Not only that, he said it was like great doctors, great care. I mean we could have a great system in this country.
He also went so far as to go after American doctors and the high cost of treatment in the U.S., saying: "You look at what some of these doctors do and some of the money that they make, and you go to other countries and you see what they make, it's a whole different world."
August 2015
In August of that same year Trump praised how single-payer worked in Canada and Scotland and argued that it could have worked in the U.S. "in a different age."
September 2015
One month later, Trump, was back to arguing for in favor of something like a single-payer system. In an interview with CBS's 60 Minutes, he described his ideal health care plan, saying: "Everybody's got to be covered. This is an un-Republican thing for me to say." 
When asked how it would be funded, Trump replied: "The government's gonna pay for it. But we're going to save so much money on the other side."  
Though Trump insisted that "for the most part" the health care plans would be "private," he seemed to be arguing for a system where the federal government picks up the tab.
February 2016
At a CNN town hall in February of 2016, Trump once again came right up to the edge of endorsing Bernie Sanders's health care plan, saying we should take care of people without health insurance using "the concepts of Medicare."
There's gonna be a group of people at the bottom, people that haven't done well, people that don't have any money that won't be able to be taken care of. We're gonna take care of them through maybe concepts of Medicare. We have hospitals that aren't doing well. We have doctors aren't doing well. You cannot let people die on the street, OK? Now some people would say, "That's not a very Republican thing to say." Every time I say this at a rally, or even today I said it, once again a standing ovation, I said, you know, the problem is everybody thinks that you people as Republicans hate the concept of taking care of people that are really, really sick and are gonna die.
He followed up by saying: "That's not single-payer, by the way, that's called 'heart.'" 
Yet, his plan appears to be to allow everyone access to Medicare. Where have we heard that one before?