'Pokémon Go' Water Event Dates: When the festival ends and what to do before it's over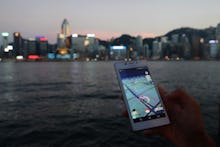 If you've been asleep at the wheel regarding Pokémon Go, you'll likely have missed a number of key announcements. The most recent news of course is that a new event is currently underway: a Water Festival where spawn rates for water types have been massively increased. That's good news if you need to fill out that Pokédex or just want to get a Lapras. The bad news is that... it's almost over. 
But before you throw on your coat and make a mad dash out to the nearest lake, hold up! We've got all the info you'll need to make the most of the Pokémon Go water event.
Pokémon Go Water Event Dates: What time does the festival end
The Water Festival ends on Wednesday, March 29 at 4 p.m. Eastern. That means you've got until Wednesday in the middle of the day to take advantage of the increased spawn rates of water Pokémon, and more than enough time to find some new species for your Pokédex.
Pokémon Go Water Event Dates: How to take advantage of the festival
If you're looking to make the most of the Water Festival before its fast-approaching end, you'll want to head to your nearest lake, river or ocean (within reasonable distance, of course). The reason for this is that per Niantic's announcement surrounding the event, Johto region Gen 2 water Pokémon and Lapras spawns are increased "when you're out exploring areas where Water-type Pokémon more commonly appear."
So if you've not managed to hatch a Lapras yet or you need more Gen 2 water types for your Pokédex, the nearest body of water is going to be a good place to be.
Pokémon Go Water Event Dates: Catch every Magikarp you see
We know, we know: no one wants to see Magikarp when there's powerful Pokémon like Lapras to catch. However, Niantic concurrently released a shiny update to go along with the Water Festival, and the Pokémon they chose to go along with it was none other than everyone's favorite flopping fish.
The hitch is that you can't tell which Magikarp are going to be shiny by eyeballing them from the overworld map: you'll have to get into a battle and attempt to catch them before you're able to see if they're a pale yellow-gold color instead of the normal reddish orange.
In addition to the potential of catching a Shiny Magikarp (which you can evolve into a Red Gyarados), it does take 400 candies to evolve Magikarp into Gyarados anyway. If you've put off getting Gyarados this long, the increased Magikarp spawns might be your best chance to start making a dent in the substantial candy requirement.
Pokémon Go Water Event Dates: Use those lure modules
If you're not inclined to walk around for whatever reason, or just prefer to work smarter and not harder, there's really not going to be a better time to use a lure module. 
Hole up at a coffee shop with a nearby PokéStop, drop a lure module into its open slot and start catching as many Pokémon as you can for its duration. The increased spawn rates on water type Pokémon mean you're more likely to encounter them, all without even moving from your fancy coffee drink and free wifi. For the best results, you could even drop a lure module at a PokéStop along a river or lake and hope for a Lapras spawn, while availing yourself of other water type Pokémon as well.
Whether you've been active in the event all week or are just getting started now, you've got more than enough time to catch some new (and shiny) Pokémon in Niantic's latest update. Happy hunting.
More Pokémon Go guides, tips and tricks
If you're booting up the game for the first time in a while to get ready for Gen 2, be sure to check out Mic's guides on how to get stardust, how to determine how long it will take you to reach level 40, the kind of Pokémon you get from 10-kilometer eggs, how to create new PokéStops, how to maximize your chances of catching Pokémon and how PokéStops distribute Pokémon eggs. Also check out how to catch Gen 2 baby Pokémon, our analysis of post-balance update Chansey and Rhydon and everything you need to know about finding the long-awaited Pokémon Ditto.