Vietnamese "Egg Coffee" is the perfect combination of breakfast staples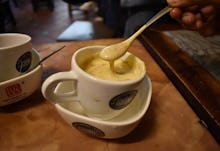 Two beloved breakfast foods unite in one warm, frothy mug that's sweeping Vietnam's latest coffee craze. 
In Hanoi, Vietnam, cà phê trúng, also known as egg coffee, is foaming up the city. The creamy beverage, made from a Vietnamese coffee topped with a meringue-like egg white foam originated at Cafe Giang, the Hanoi-based coffee house told CNN. Now the decadent, caffeinated creation is popping up all over the city, much like how croissant doughnut hybrids multiplied throughout New York when Dominique Ansel's Cronut craze launched in 2013.
Like most specialty coffee drinks, egg coffee can be served hot or iced. 
The cold version is eaten with a spoon, according to CNN, and is perhaps more similar to coffee-flavored ice cream or custard than a morning beverage. 
The hot version, to be sipped from a mug, is served in a bowl of warm water to keep the temperature steady, and is a steamy combination of egg, condensed milk, coffee powder, butter and cheese, Cafe Giang owner Nguyen Van Dao told CNN. Of course, other secret ingredients help finish off the coveted recipe that Van Dao is not eager to share with the masses.
Egg coffee, however, is not at all new, though we may have Instagram to thank for recently bringing the 60-year-old creation into the spotlight. 
Back in 1946, Van Dao's father, Nguyen Van Giang, worked as a bartender at Hanoi's Sofitel Legend Metropole Hotel. At the time, fresh milk was hard to come by, so he'd substitute creamy whisked egg yolks for dairy, like how whipped yolks are used to create creamy mayonnaise or aioli without any dairy products. The substitute was a hit, and the recipe for the original egg coffee has stayed in the family ever since. 
Coffee drinking and coffee shop culture is a major part of life in Vietnam, a staple in the Vietnamese diet since the French introduced coffee to the country in the 19th century.
Egg coffee, however, isn't strictly a Vietnamese invention to survive dairy shortages. A similar creation, Swedish Egg Coffee, became popular with Scandinavian immigrants in the Midwest United States circa the mid-1800s, and can still be found in church basements, grandparents' kitchens and booths at the Minnesota State Fair to this day. 
No trips to Hanoi or Minneapolis on your radar? Try making egg coffee yourself! Though Cafe Giang's recipe is top secret, Andrea Bearce Duty's recently authored egg coffee recipe for Food52 will help you get started on your yolky, caffeinated journey.