Trump expected to sign executive order slashing Obama-era climate regulations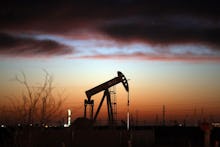 He's already rolled back the Clean Water Act. It was only a matter of time before President Donald Trump came for the Clean Power Plan.
Trump is expected to sign a broad executive order Tuesday that will evaluate any rulings or actions on the books that "burden" domestic fuel companies, including coal, gas, oil and nuclear, Bloomberg reports.
Those found to be a "burden" will be changed, suspended or eliminated unless mandated by law, deemed pro-business or considered to be in the "public interest" by the administration.
The executive order will also do away with two Obama-era rules. The first ensures reviews measuring the environmental impact of an energy project will take climate change into account — Trump's been expected to do away with this rule for a few weeks.
The second rule Trump is expected to eliminate is called the "social cost of carbon," or the SC-CO2, which is a number that estimates the long-term damage that a ton of carbon does to the environment each year. The SC-CO2 has been a central to a number of new laws.
While any executive orders former President Barack Obama signed can easily be toppled, the Environmental Protection Agency won't be so easy to take on. States and environmental groups can use the courts to resist attempts by the president and congress to overturn its rule-making, and EPA staff have been prepping for a long fight against the Trump administration.
But Trump is already hawkish and effective in his anti-environmental executive actions. In January, he signed an executive order speeding along construction of the Dakota Access pipeline, leading to a swift evacuation and destruction of the Standing Rock resistance camps.
In Februrary, as Trump signed the executive order revoking clean water protections, he insisted that his efforts would create "millions" of jobs. While the jury is still out on that claim, the solar energy industry has been booming, growing to 260,000 American jobs in 2016. That's a yearly jobs gain of almost 25%.