12 things we learned about 'Pretty Little Liars' season 7 from PaleyFest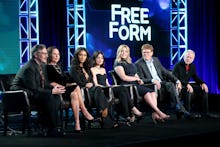 Before Pretty Little Liars kicks off its final season on April 18, some of the cast and creative team convened at PlayFest for a panel, answering questions and offering a sneak peak into the final season. 
The series, based on Sara Shepard's young adult book series, has a lot of unanswered questions and mysteries to clear up in its final season, which is just 10 episodes. Showrunner I. Marlene King promised all of the questions will be answered in what looks to be an extremely eventful season.
1. The finale is two hours 
King described the final 10 episodes, which kicks off with as a "love letter to the fans." She referred to the series finale, which will be two hours long, saying, "It feels like a movie, and it was written as if it was a movie." But it won't be a clear path to the conclusion: King also teased, "I hope you guys are satisfied with this huge twist."
2. Reading the ending was emotional for the cast 
"We were all crying," Janel Parrish, who plays Mona Vanderwaal, told Entertainment Weekly about the cast reading the two-hour finale. The surprise wasn't satisfying for everyone, though: Ian Harding, who plays Ezra Fitts, said he didn't love the ending. "It was until we had shot and wrapped ... I was driving home on my last day, slightly teary-eyed, and it landed on me, who and what this whole thing was, and I kind of went, [gasps], like, in the car, in traffic."
3. The killers are (finally) revealed
A lot of people have died during the show's seven seasons: Spencer's brother-in-law, Ian, mysterious new-girl, Shana, corrupt cop, Detective Wilden, to name a few. Some of these deaths have been explained and some haven't, but Parrish said the whodunits will be solved. 
"Of the last 10, there is a really big reveal at the end of every episode," she told Entertainment Weekly. "You're going to find out who killed Jessica DiLaurentis, who A.D. is — all of the answers."
4. Sasha Pieterse was almost cast as Hanna 
Hanna Marin, the lovably, ditzy but surprisingly insightful Liar, has been brought to life by charismatic actress Ashley Benson for the past seven seasons. During the panel, it was revealed that Sasha Pieterse, who plays the mysterious Alison DiLaurentis, was almost offered the role. 
5. What's in store for Haleb? 
Speaking of Hanna, her passionate romance with tech-wunderkind Caleb has been the subject of fans and shippers since season one. The duo had parted ways (and Caleb had a fling with Spencer), but things seem to be heating up between them again — especially after Caleb told her, "You won't admit that we're supposed to spend the rest of our lives together."
And the actors don't feel any differently: "I do feel like Haleb was meant to be," Tyler Blackburn, who plays Caleb, said at the panel. "Spaleb was fun to dabble with; Haleb is where it's at." 
6. Wedding bells will ring
It's already been revealed a wedding will take place during the last 10 episodes, but no one has said who the spouses are. Blackburn said, given the opportunity, Caleb would definitely marry Hanna, saying, "I think he would be willing to. Yeah, absolutely. I think that ... they're just meant for each other."
But don't think a happily-ever-after is that easy for these lovebirds: King said, "All the [relationship] endgames will be the endgames ... Nobody's going to get there super easily. There's going to be some bends in the road to get to the happily ever after." 
7. Even though Benson and Blackburn are friends, they're not the best scene partners 
"Every time I look at Tyler's face, I start laughing," said Benson of working on the set. "And then Shay, too. We are actually the hardest people to work with to get through a scene because once you start it's really hard to stop. Especially, with us three in one scene." 
8. Benson and Blackburn are just as much fun off-screen 
Playing two people madly in love for seven years had to make Benson and Blackburn close. "We laugh so much," Blackburn said of acting with with is on-screen love. "This show was my first really big acting job and she made me feel comfortable immediately. It just spiraled from there in a good way. We both had the ability to create romance with each other."
9. Emison is up in the air 
Another relationship that has persisted through the seasons is the one between Alison and Emily. Emily came out in the first season, but Alison's feelings for her have always hovered in a grey area. The two were last seen kissing, much to the anger of Emily's high school girlfriend Paige. 
This won't be overlooked. King weighed in on the two, saying, "Alison hasn't dealt with her sexuality. These 10 episodes are about Alison figuring out her sexuality and Emily plays a part in it."
10. The father of Alison's baby 
Rosewood's reformed bad girl had a tough time as a newlywed — that whole husband plotting against her and having her institutionalized took a toll. She also recently learned she's pregnant, and she wasn't exactly happy about the news. 
"Ohmigod I can't believe this is happening. I thought we were careful. It's not how I pictured starting a family," said Alison. 
Pieterse said of the story, "We don't know who the father is, really." 
11. The girls are close off-screen as well
Just as surviving everything the characters went through bonded them for life, the actors playing the girls also became close. Benson and Mitchell have become best friends off-screen and go by the nickname, "Buttah Benzo."
"I never had a sister, but when I met Ash, she was like my little sis, and that just grew over the years," said Mitchell. She joked, "We weren't best friends when the show first started. During the second season, I was like, 'eh.'" 
12. The cast even owns matching rings 
King gave each of of the girls a gold Cartier Juste un Clou ring and bought one for herself as well. "It's the nail ring," she told People. "I feel like the journey they've been on was such a struggle, and they're so, so stronger for it, but yet beautiful."
Mic has ongoing Pretty Little Liars coverage. Please follow our main Pretty Little Liars hub.