The missing DC girls are real — but the viral meme about them is full of misinformation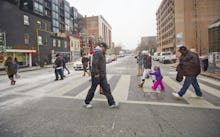 A recent viral post on social media claiming 14 black girls had gone missing in Washington, D.C., in a 24-hour period wasn't true — but it did cause waves in the nation's capital and across the country, and shine a light on a striking racial disparity among missing teens in the U.S. 
A spokesperson for the Metropolitan Police Department of the District of Columbia said that at no point in recent weeks had 14 teens disappeared from the city in the course of one day, NBC Washington reported on Saturday. Further, Washington police said that there has been no increase in missing person cases, noting that the number of missing child cases in the city actually fell from 2015 to 2016.
So where did the viral meme that sparked the outcry come from? The sudden dialogue about the number of black teens reported missing in Washington wasn't because of a mysterious spike in missing persons reports. According to the New York Times, it was, in part, a result of new communications strategies the Washington police are testing to raise awareness about missing teens.
Starting in January, the department began posting photographs and information about missing teenagers on social media, including on the department's Twitter account, in an attempt to raise awareness. "We've just been posting them on social media more often," police spokesperson Rachel Reid told NBC Washington.
But the posts were, as the Times reported, mistakenly interpreted by some as indication that there was a sudden rise in the number of missing teens. And soon, misinformation about the actual numbers of missing teens in Washington was circulating online and getting retweeted by celebrities' accounts, including those of Taraji P. Henson, LL Cool J and Russell Simmons, according to NBC Washington.
The viral post claiming that 14 girls had gone missing from Washington in one day actually included photos of children who have been missing for years, BuzzFeed News reported. The photos were apparently pulled from a Shaun King column in the New York Daily News about the number of missing black girls in the U.S.
According to Washington police, a total of 501 teenagers have been reported missing in the city so far this year. Of those missing child cases, 22 were still open on Tuesday, the Times reported, along with five additional cases from 2014 and 2016. None of the cases appeared to be abductions, police spokesperson Margarita Mikhaylova said, according to the Times.
While there's no indication of a sudden spike in missing child cases in Washington, the real information does indicate something troubling: According to NBC Washington, most of the missing teens whose information has been shared as part of the department's new awareness campaign are black or Latino. 
As Derrica Wilson, co-founder of the Black and Missing Foundation, told NBC Washington back in 2016, cases of missing people of color often receive far less media attention than missing white people. A 2010 report found that black children represented 33.2% of missing persons cases in the U.S. but only received 19.5% of the national television news coverage of missing children cases.
Despite the misinformation currently circulating, the recent outrage over the number of missing black teens in Washington is inspiring real action: In response to the increased attention on social media, Washington Mayor Muriel Bowser just announced new initiatives meant to help find and aid missing children and teens in the city, and a group of black members of Congress have asked the FBI to devote more resources to missing black children.