Who's in the House Freedom Caucus? Here's a list of Republicans in the group.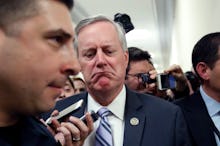 On Friday morning, Republican leadership was still scrambling to whip up votes needed to pass their doomed health care bill, the American Health Care Act.
The legislation, which President Donald Trump endorsed as a conservative alternative to former President Barack Obama's Affordable Care Act, was struggling to attract GOP support. Some feared the bill's cut to Medicaid funding would have a negative impact on constituents; others worried it wasn't conservative enough.
Chief among the hardliners were the members of the House Freedom Caucus, the far-right group of three dozen conservative lawmakers known for stirring up trouble, even among their own ranks.
Despite reports that House Speaker Paul Ryan — and Trump himself — personally appealed to Freedom Caucus members in an effort to lock in the required votes, the lawmakers refused to play ball. By Friday afternoon, GOP leadership was forced to pull the bill in disgrace after failing to drum up support.
Below are all 30 known members of the House Freedom Caucus, some of whom are the chief players responsible for defeating Trump in his first attempt at passing major legislation.
Members of the House Freedom Caucus
• Mark Meadows — chair of the House Freedom Caucus
• Justin Amash
• Brian Babin
• Rod Blum
• Dave Brat
• Jim Bridenstine
• Mo Brooks
• Ken Buck
• Warren Davidson
• Ron DeSantis
• Scott DesJarlais
• Jeff Duncan
• Trent Franks
• Tom Garrett Jr.
• Paul Gosar
• Morgan Griffith
• Andy Harris
• Jody Hice
• Jim Jordan — As vice chair of the House Freedom Caucus, Jordan reportedly hatched a plan to band together members in their "no" votes, even if Trump himself personally asked for an audience.
• Raúl Labrador
• Alex Mooney
• Gary Palmer
• Steve Pearce
• Scott Perry
• Ted Poe — The first casualty of the failed AHCA vote, Poe resigned from the House Freedom Caucus on Sunday to protest its refusal to back the GOP bill.
• Bill Posey
• Mark Sanford — Commenting on the bill's failure, Sanford reportedly said, "I'm here to tell you, sometimes that testosterone can get you in trouble." Sanford has publicly criticized Trump and previously introduced an alternative option to replace the ACA.
• David Schweikert
• Randy Weber
• Ted Yoho
Correction: July 18, 2018