Paul Manafort's ties to Russia are about more than politics. They're also about money.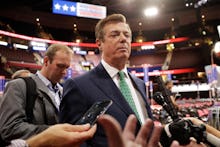 In June 2005, former Donald Trump campaign chairman Paul Manafort proposed extensive lobbying on behalf of Russia, the Associated Press   reported Wednesday. He offered to "influence politics, business dealings and news coverage inside the United States ... to benefit [President] Vladimir Putin's government." 
It may turn out that Manafort acted as a foreign agent without registering with the Justice Department as required by law, but even still, the Associated Press  report made national news as yet another data point in the web of connections between Trump, his advisers and Putin's Russia. 
The article also came on the heels of Manafort's statement that he is willing to testify before the House Intelligence Committee in the course of its investigation into such connections. It's possible Manafort shares political sympathies and sensibilities with Putin, but it's also feasible he just likes to get paid.
Manafort's clients are routinely unsavory
In February 1992, Spy Magazine published an article by Art Levine called "Publicists of the Damned." Levine ranked Black, Manafort, Stone and Kelly as the No. 1 sleaziest lobbying firm with a "blood-on-the-hands" rating of four, more than any other Beltway firm. Manafort's company represented Somalia, Zaire (now the Democratic Republic of the Congo), Nigeria, Kenya, Peru and the Dominican Republic, among others. 
Those countries were either U.S. allies or non-aligned during the Cold War. Manafort was willing to represent them when others were not, but it wasn't out of long-held sympathy for Russia or the Soviet Union. 
Manafort was a partner in various lobbying firms and has worked on behalf of companies like Fruit of the Loom, Verizon and the nonprofit Save Luke AFB. He has also lobbied on behalf of pro-Putin governments in Uzbekistan and Tajikistan. 
However, as Julia Ioffe pointed out in the Atlantic, Manafort represented Putin during a time when "the international verdict on him was still mixed." 
Manafort's ties to pro-Russia governments and individuals are well-documented. Perhaps he is sympathetic to Putin, but his longtime client roster shows he is willing to step in and represent the most unsavory of clients. 
For Manafort, it seems reputational risk is the benefit, not the cost.