'Survivor: Game Changers' star Ozzy Lusth has gone through a hair-volution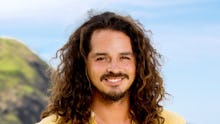 Hannah Shapiro was a runner-up on Survivor season 33: Millennials vs. Gen X.
There are many things "game changing" about Survivor: Game Changers. New twists, returning foes and host Jeff Probst's sly smile keep everything interesting in season 34. However, nothing is more game changing this season than Oscar "Ozzy" Lusth's hair. The Survivor competitor has been sporting pigtail braids. He turns what some would claim could only be pulled off by a Hello Kitty backpack-wearing third-grade girl into a hot island hairstyle. Ozzy isn't just a challenge master, but also a curly hair master. Which is more impressive? History will be the judge of that.
Ozzy began playing Survivor on season 13, Cook Islands, when he was 24-years-old. Now, 10 years later, and his fourth time playing Survivor, his game has evolved for sure. But more than having a game evolution, he's had a hair-volution. Let's take a look back on the many hairstyles of the handsome island fisherman, Ozzy.
Survivor: Cook Islands: Floppy and curly
When Ozzy played his first season of Survivor he was just a bright eyed newbie. With a warrior's song in his heart and a fishing pole in his hand, Ozzy became a quick fan favorite. And he almost won! He was the season 13 runner up to Yul Kwon in a 5-4-0 vote. Ozzy's hair back then was a cute, short, flop do — casual and young. He let his curls breathe without letting them grow out too much. His hair was like his soul: ready to experience the world, unaware of the adventures that await.
Survivor: Micronesia — Fans vs. Favorites: Short sides, curly top
Ozzy was a bit more styled hair-wise on season 16, Survivor: Micronesia — Fans vs. Favorites. He returned to play a second time as a favorite and had a stylish new haircut to match his favorite status. His hair said: I'm still young and hip but now I know it. A lot happened to Ozzy in season 16. He was blindsided by a powerful women's alliance and put on the jury and gave a jury speech for the Survivor history books. In it, he confessed his love for his shark-killing island girlfriend Amanda Kimmel. While they didn't last, it did momentarily make me believe that love isn't a complete lie.
Survivor: South Pacific: Long hair and man buns
In Survivor: South Pacific Ozzy left it all on the island and let his hair be wild and long, like his game. He had two main styles in season 23: shoulder length, free-flowing curls and a stylish man bun. Ozzy and Benjamin "Coach" Wade were the only two returning players this season. With a redemption island twist, Ozzy used his challenge prowess to remain in the game. He came one challenge short of taking it all and instead placed fourth. The win went to smart, savvy strategist Sophie Clarke. Ozzy was a veteran Survivor player at this point, a man of the islands. And his hair certainly reflected it.
Survivor: Game Changers: Braids
Ozzy is now a four-time Survivor player and he's clearly having some fun with it. For season 34 challenges, he has has been sporting two braids. Ozzy's hair has had quite the transformation and so has the 35-year-old man. If you look closely, his tribe mates Andrea Boehlke and Sarah Lacina also rock the braided 'do — because everyone should get in on the hair fun.
Ozzy's hair is one for the hair-story books. I remember returning after my own island stint. After 39 days on the island, I barely recognized the tangled mess I saw in the mirror. After weeks of intense gameplay, saltwater, swimming, brutal weather and even sports, my hair had taken on a personality of its own. The island brings out the best and worst in everyone's luscious locks, and, in season 34, Ozzy has found a creative way to tame his wild mane. Now, let's see how he tames his tribe mates' wild gameplay.
Mic has ongoing Survivor coverage. Check out our main Survivor hub here.