iPhone 8 Release and Rumor Update: Here's the latest iPhone news you can trust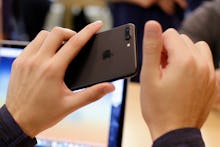 The internet is full of iPhone 8 rumors, specs, updates and release date info — but some bits of information are more plausible than others. 
Apple's next big device launch is said to commemorate the 10-year anniversary of the original iPhone, which was first announced in January 2007. As such, there's a lot of hype and speculation surrounding the new smartphone. Here are all the updates you can trust as we prepare for the iPhone 8 release date.
iPhone 8 rumor update: What's the device called, anyway?
After months of back and forth, the general consensus in the tech community right now is that Apple will launch three devices: an iPhone 7s, an iPhone 7s Plus and a third handset — a high-performance model referred to as the iPhone 8. Other reports have called it the iPhone X (for the 10-year anniversary, of course), iPhone Edition or even the iPhone Pro. In theory, it would make more sense for Apple to steer away from labeling the device as the iPhone 8, as it breaks away from their naming system.
iPhone 8 rumor update: Price
The price of the iPhone 8 has been rumored to start at $1,000, though certain models could potentially also be higher. While this may sound alarming, it is not as far-fetched as it seems. The current line of iPhones go as high as $969. Specifically, the 256GB version of the iPhone 7 Plus. With that in mind, it is not entirely inconceivable for a luxury anniversary device to reach $1,000 or an even higher price point.
iPhone 8 rumor update: What will be different?
As for the features of the next iPhone, Apple CEO Tim Cook teased earlier this year that "the best is yet to come" for the smartphone. "iPhone is an essential part of our customers' lives, and today more than ever it is redefining the way we communicate, entertain, work and live," Cook said in a statement. "iPhone set the standard for mobile computing in its first decade, and we are just getting started. The best is yet to come."
From a design standpoint, the iPhone 8 is believed to feature a glass and stainless steel body. The smartphone will also have an edgeless OLED 5.8-inch display, which, according to Barclays supply chain analysts will be "bezel-less." Both the home button and fingerprint sensor may be built into the screen for the first time. What's more, the next-gen iPhone may come equipped with a new 3-D sensing technology that allows for "some form of facial/gesture recognition."