When does 'Westworld' season 2 premiere? 3 things to know about HBO's mind-bending Western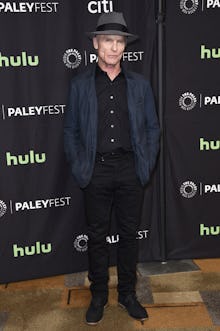 After the conclusion of the first season of Westworld, HBO's hit sci-fi Western, fans were left with a gory finale and a plethora of unanswered questions, with many wondering what on Earth — or wherever Westworld is actually located — happened to Logan. But there's one question almost every Westworld fan wants answered above all else: When will the second season of Jonathan Nolan's sexbot-filled series premiere?
The Westworld cast and many of its creators took to the stage Saturday at the Dolby Theatre in Hollywood, California, for PaleyFest 2017. The show's cast and crew tried to answer as many questions as they could, but when it came to the release date for Westworld season two, the panelists were particularly tightlipped, revealing only that writing for the show's sequel has officially begun and that filming could start as early as this summer, Paste reported.
Though details surrounding the season two premiere are scant, the Westworld panelists did offer some intriguing tidbits regarding what's to come, as well as answer some of the burning questions left open at the end of season one. Here are three things you need to know about Westworld ahead of its second season's release.
Teddy loves Dolores "to infinity"
If you thought Teddy was turned off by Dolores' cold-blooded slaughtering of guests at the conclusion of season one, think again. It turns out Teddy is officially a love machine with undying commitment to his sweet, southern bell.
"I think they're never-ending," James Marsden, who plays Teddy, told Paste. "I've learned... the more complicated, and the more flawed, the more interesting the person is. Early on, his idealistic image of what their relationship was, and who she was — she's this sweet farm girl that he needed to protect — got completely rearranged by the end of the [first season], and I think he fell more in love with her."
This proves an interesting contrast to Dolores' relationship with William, who seemed to only love the version of the artificially intelligent machine he wanted her to be. Once Dolores began evolving beyond her programming, William had a change of heart, whereas Teddy, apparently, only grew to love her more deeply.
Maeve was the first to exercise free will
Free will was an overarching theme in the first season of Westworld. Maeve personified this well, incessantly searching to prove her decisions were her own, not a byproduct of programming. As the season progressed, however, it became clear that despite her best efforts, each and every one of Maeve's decisions was a result of coding, not her own free will.
As season one drew to a close, Maeve's journey to leave the park came to fruition with her finally escaping after a bloody battle. She reached the train that leads to the real world and stepped aboard — but again, this was all part of her narrative, despite her beliefs. 
It's only when Maeve disembarks the train to stay in the park and search for her daughter that she makes her first act of free will.
"If you look at her performance in that moment, that is really the first decision she's ever made," Nolan said at PaleyWest, IGN reported. "For me, it's a very emotional moment in the episode because you see her free will." 
Ed Harris and Samurai World
In the final scenes of Westworld season one, viewers caught a glimpse of something fantastic: Samurai World — an entirely separate park that centers around the far East culture instead of the West. But Ed Harris, who plays the Man in Black, has no desire to be clad head-to-toe in samurai armor, much preferring to stick with his black hat and suit. 
"I just want him to stay out of the samurai suit, that's all," Harris told Paste. "I don't care where he goes after that... I want to be a Man in Black, so I don't know what they've got planned for me, but I just want to be a Man in Black. That's what I signed on to play, so if they try to take me out of that suit, they're going to have a fight on their hands."
Mic has ongoing Westworld coverage. Please follow our main Westworld hub here.