11 incredible muslim women to celebrate this #MuslimWomensDay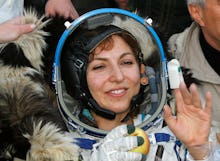 Islamophobia is on the rise in the U.S., worse in 2016 than it was after the terrorist attacks of Sept. 11, 2001.
Muslim women who wear hijabs have become easy targets, with governments and citizens alike attempting to banish the religious head covering. The burkini, another easy target, has also become of political interest, with some French cities going so far as to ban them.
These same critics declare a Muslim woman's head covering evinces what they perceive as the religion's oppressive and anti-feminist roots. 
But #MuslimWomensDay offers a perfect opportunity to celebrate Muslim women who defy stereotypes and expectations — people who are preeminent in their fields, from athletes to activists to astronauts. They're people, like the Prophet Muhammad's businesswoman wife, who remind us of the religion's feminist roots.
Here are 11 of them — among many others.
1. Dalilah Muhammad
This Muslim-American Olympic runner won the gold medal in the Rio 2016 Olympics for women's 400-meter hurdles. She's also a activist who uses her platform to highlight minority voices and recently appeared in Nike's star-studded equality campaign. 
"Being a Muslim woman, being a black woman, just being a woman in general, we have so many things fighting against us already, so it's important to be that voice for someone else," she said in a behind-the-scenes video of the Nike campaign.
2. Khadijah bint Khuwaylid
Khadijah, in short, was a boss. She was the Prophet Muhammad's wife, 15 years his senior and — after declining a number of marriage proposals — decided to propose to Muhammad. He said yes.
As a successful businesswoman and trader, she was the breadwinner and supported her husband when he first started to have revelations. She was also the first Muslim ever.
How'd you like them feminist apples?
3. Arezou Hakimimoghaddam
This young Iranian Olympian is nothing if not persistent. She trained for six years as a swimmer, but after the Iranian government forbade her from representing the country in a swimming suit, she re-trained, learning to kayak instead.
At 17 years old, she competed in the "Canoe/Kayak Flatwater" category in London's 2012 Olympics and came seventh in her heat for the K-1 200M race.
"We don't have any representatives internationally in swimming and I wanted to go to another level," she told the Telegraph during the 2012 Olympics.
"I hope that at the next Olympics in 2016 we have more athletes," she added.
4. Anousheh Ansari
Ansari was the "the first female private space explorer" and a de facto space ambassador after taking a trip to space in 2006. Widely known as a successful entrepreneur, she was the cofounder and CEO of Telecom Technologies, Inc., and is currently the chairwoman of the internet company Prodea Systems, which she also cofounded.
She accepted the Oscar for 2017 Best Foreign Language Film, The Salesman, as its Iranian director, Asghar Farhadi, boycotted the Academy Awards because of President Donald Trump's anti-Muslim travel ban.
"My absence is out of respect for the people in my country and those of other nations whom have been disrespected by the inhumane law that bans entry of immigrants to the U.S.," Ansari said as she accepted the award, speaking on behalf of Farhadi.
5. Shahla Sherkat
Sherkat has established herself as a fearless journalist, working within the confines of Iran.
Founder of the women's magazine Zanan, she was the 2005 Courage in Journalism Award recipient, presented by the International Women's Media Foundation. 
She started Zanan "because she felt mainstream journalism was ignoring serious coverage of women's rights in Iran. It was the first independent journal to focus on women's issues after the 1979 Iranian Revolution," the IWMF explained.
Sherkat has been charged, fined and imprisoned by the Iranian government for her journalism and politics, but has remained unwavering. 
6. Ibtihaj Muhammad
Muhammad is the bronze medalist sabre fencer who represented the United States in the 2016 Rio Olympics. She has been vocal about dispelling Muslim female stereotypes.
"I try to remember to be positive and to try to leave all these situations, even if they may be very difficult, with love," she said, after she said she was detained for two hours by U.S. Customs and Border Protection. 
"I think that we will come out on top as women, as people of color, as Muslims, as transgender people, as people who are part of the disabled community — I think that we'll come out on top," Muhammad added.
7. Ilyasah Shabazz
Shabazz is the daughter of Dr. Betty Shabazz and famed Muslim and civil rights activist Malcolm X. She is a writer, motivational speaker and activist who focuses on empowering young people.
Her work includes "higher education for at-risk youth" and connecting and facilitating relationships between young people across the world. She's also joined a number of international humanitarian delegations.
Shabazz coauthored children's book X: A Novel, about her father's formative years, for which she received the 2016 NAACP Image Award for Outstanding Literary Work for Youth/Teens.
8. Azadeh Moaveni
Another seasoned journalist, Moaveni has reported on culture and women's issues within Iran for a string of high-profile publications, including the Washington Post, Los Angeles Times, the Guardian, the New Yorker and Time. 
She has also written a number of books, such as Lipstick Jihad and Honeymoon in Tehran. She coauthored Iran Awakening with Shirin Ebadi, the 2003 Nobel Peace Prize laureate. 
"I spent the first half of my career totally engaged with this question, how to get the West to understand us better, how to convey our reality, how to prove that we were not all chained to the stove frying onions," she said, according to the Huffington Post. 
"Now ... I'm much more interested in having a dialogue with and trying to bring about some change within my own community, within the Iranian diaspora and Iranians inside Iran," Moaveni added.
9. Mariam al-Mansouri
Al-Mansouri is not only the United Arab Emirates' first female fighter pilot, but she broke even more records in 2014 by leading airstrikes against ISIS in Syria.
She said serving her country was a dream, according to the Guardian, and added that men and women should have equal freedom to pursue whatever careers they want.
"[S]he changed the stereotypical image of how Muslim women are seen on a big scale," Mohammed Ayish, professor and head of mass communications at the American University of Sharjah in UAE, told Al Arabiya News in 2014. "Even though Muslim and Arab women have created many achievements, media play a big role in fermenting such stereotypes."
"She put forth a progressive sample of what Emirati women can do in different fields including defense and military," he concluded. "She is an honorable Arab women."
10. Sayeeda Warsi
This British lawyer and politician from Yorkshire became the first Muslim woman cabinet member in the United Kingdom. She served as senior Foreign Office minister under former Conservative Prime Minister David Cameron's government. 
But Warsi made headlines in 2014 for resigning over Britain's policy on Gaza, a strip of Palestinian territory, which was the site of an aggressive Israeli offensive in the 2014 Gaza War. Thousands of Palestinians, mostly citizens, were killed as compared to scores of Israelis, most of whom were soldiers.
"[The government's] approach and language during the current crisis in Gaza is morally indefensible, is not in Britain's national interest and will have a long term detrimental impact on our reputation internationally and domestically," she wrote in her resignation letter.
"I believe our approach in relation to the current conflict is neither consistent with our values, specifically our commitment to the rule of law and our long history of support for International Justice," she added.
She's been a vocal critic of Islamophobia, the "nonsense" of "day-to-day bias," and was placed on ISIS' "kill list" in 2016.
11. Malala Yousafzai
Yousafzai, known universally by her first name, needs no introduction. She received the Nobel Peace Prize in 2014 at 17 years old, becoming the youngest person to ever receive the award.
As a young child, Yousafzai campaigned for girls' education, anonymously blogging for BBC at age 11 about being denied education in her Taliban-run hometown of Swat.
She swiftly became a threat to and target of the Taliban. A member of the network shot her in the head in 2012 when she was 15 — an attack she miraculously survived. After relocating to England, Yousafzai used her platform to tirelessly advocate for girls' rights and education.
"This award is not just for me," she said upon receiving the Nobel prize. "It is for those forgotten children who want education. It is for those frightened children who want peace. It is for those voiceless children who want change."