Today in Trump-Russia News: Kushner will answer questions before Senate Intel Committee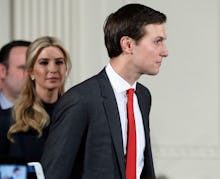 Today in the Russian spy novel that is our current administration...
Jared Kushner gets questioned
The New York Times broke the story that Trump's top adviser, who is conveniently also his son-in-law, Jared Kushner, will be questioned as part of the Senate's investigation into whether or not the Trump campaign colluded with Russian officials. The committee will ask Kushner about meetings he arranged with Russian Ambassador Sergey Kislyak as well as with Russia's state-owned development bank. 
White House press secretary Sean Spicer later said that Kushner had "volunteered" to answer questions before the Senate Intelligence Committee.
Devin Nunes met with sources at the White House
It turns out House Intel Committee member Devin Nunes met with intelligence officials prior to his bizarre press conference alleging some kind of inappropriate surveillance of Trump and his transition team. According to the New York Times, Nunes met with the intelligence source on White House grounds, furthering suspicions that the source of Nunes' information was a White House official.
Normally one might check the White House Visitor Access Records to see who checked Nunes in that day, but the Trump administration has not updated that previously public information since they took office.
Asked about whether or not the visitors logs would be updated, Spicer told the press, "We are reviewing that now" — an answer that did not inspire confidence in reporters who had been asking the same question since Inauguration Day. 
Roger Stone points the finger back at intel community
The president's longtime friend Roger Stone pushed back against claims that his admitted contact with Russian hacker Guccifer 2.0 is evidence of his potential collusion with the Russians. Officials believe that Guccifer 2.0 is a "cutout" — an intermediary used for the dissemination of hacked documents, a conviction on which Stone tried to cast doubt.
"Number one, I don't concede Guccifer is a Russian agent," Stone said on ABC's This Week with George Stephanopoulos. "Just because the intelligence services say something, as we know from history, does not make it true."
It was first reported last summer that the information Guccifer 2.0 leaked was full of metadata suggesting it came from Russia.
Russia erupts
Perhaps the most underemphasized development in the ongoing Russia fiasco is the turmoil that overcame the nation of Russia after police cracked down on protests by opponents of President Vladimir Putin's regime. Thousands of anti-corruption protesters took to the streets, and hundreds were arrested. 
The most high-profile arrest made was that of opposition leader Alexey Navalny who is widely expected to challenge Putin in that country's upcoming election. Navalny was given 15-day jail sentence. His case is one to watch given the fact that opponents of Putin who end up in jail sometimes wind up dying there.
The State Department condemned the crackdown on Russian protesters. At Monday's White House press briefing, Spicer read the State Department statement out loud and said that it reflects the views of the United States Government — because that's a thing you have to clarify now in the age of Trump.