'Warcraft 4' release date: Here's what we know so far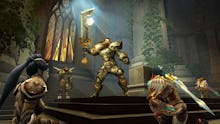 Warcraft III: Reign of Chaos was hugely popular, and its spin-off, World of Warcraft, is one of the most widely-played games of all time. It also came out in 2002 and there hasn't been a peep about any future Warcraft real-time strategy games since.
What gives? Here's what we know about the long-rumored sequel, potentially titled Warcraft 4.
Warcraft 4 release date: Don't expect it anytime soon
In a late 2016 interview with Game Informer (as reported by GameSpot), Blizzard CEO Mike Morhaime offered the closest thing to concrete information about Warcraft 4 we've gotten in a long time. Unfortunately, it's not especially encouraging if you want a new Warcraft real-time strategy game.
"I love that there is so much passion and interest around Warcraft 4," Morhaime told Game Informer. "I would love to see Warcraft 4 at some point in the future, but that is not our current focus."
So, yeah. Warcraft 4 doesn't seem to be a priority for Blizzard right now. Given how much money Hearthstone, Overwatch and World of Warcaft all seem to make, Blizzard can probably afford to keep refining those games rather than make new ones for now. 
If you want more Blizzard RTS goodness, there's at least one upcoming thing you can look forward to: a 4K, matchmaking-enabled remaster of the original StarCraft. You might not be able to micromanage orcs or night elves anytime soon, but at least you can collect vespene gases in blistering 4K resolution.
More gaming news and updates
Check out the latest from Mic, including our deep dive into how female Overwatch players are dealing with online harassment, a cool making-of video for Legend of Zelda: Breath of the Wild and an article about what a Bechdel test for gaming might look like.