16 non-boring salad recipes to whip up this spring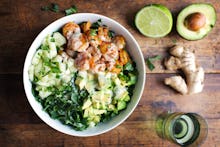 As warmer weather and fresher produce start sprouting up, so do salad cravings. Tempting greens and veggies at the farmers market may once again make salad finally seem exciting, but still, how do you get out of your salad rut? Skip your nightly chopping and tossing routine and seek inspiration from these seafood-topped, cheese crumbled, cooked, pickled, and completely raw salads that make a bowl full of vegetables look like the most exciting meal on earth. 
Spring into official salad season with these non-boring salad recipes! 
Arugula salad with grapes and black pepper vinaigrette 
Sweet, spicy and packed with fruits and veggies (plus whole grains and nuts) to keep you healthy, this salad is totally sit-down restaurant worthy. Get the recipe here. 
Shrimp and avocado salad with creamy miso dressing
So green, so good for you. Sometimes a quick homemade dressing is the key to an amazing bowl of greens. Get the recipe here. 
DIY spring salad board
Not all salads come in bowls. This salad board is easy to make and impresses a crowd. Get the recipe here. 
Roasted radicchio wedge salad 
The classic steakhouse wedge gets a gourmet makeover that you can make at home! Put it together in practically less time than it takes to microwave a Lean Cuisine. Get the recipe here. 
Basil goat cheese pasta salad
Pasta salad is totally still salad, right? Especially when your rotini is tossed with plenty of fresh veggies and herbs! Get the recipe here. 
Spring pea and carrot salad with carrot top pesto
That bunch of carrots from your local farm stand goes far when you use the green tops in your dressing. Get the recipe here. 
Steak fajita salad
Skip the Chipotle bowl and make your own Mexican-inspired fajita salad at home. Get the recipe here.
Chicken Caesar salad
Okay, so it's the most basic of salads, but you can't replace a classic. And if you make your own dressing and add your own roasted chicken, you'll breathe new life into the never-dying Caesar salad. Get the recipe here.  
Wilted escarole with feta, walnuts and honey
Sometimes all it takes is a different type of lettuce or lettuce prepared in a new way, to make your salad the opposite of boring. Get the recipe here. 
Ahi tuna poke and mango salad
Yes, you too can make this year's biggest food trend, raw fish cubes, at home! This poke salad is savory and sweet, a perfect pick-me-up after a long, poke-less day. Get the recipe here. 
Shaved asparagus and mint salad
The more sophisticated, chic cousin to the spiralizer, the peeler, is the only tool you really need to make this fancy-looking salad that calls for only a few ingredients. Get the recipe here. 
Vegan Nicoise salad
No tuna or eggs needed to make this vegan version of the classic French salad, which totally passes as a meal! Get the recipe here. 
Spring sorghum salad with radish and roasted asparagus
Part grain bowl, part salad, completely delicious and nutritious. Meal prep a bunch of these salads on Sunday night for a week of lunches ahead. Get the recipe here. 
Shrimp and artichoke green salad with lemon vinaigrette
Fresh and totally friendly for springtime, this zingy salad will make you wonder why you haven't been eating salads on the regular forever. Get the recipe here. 
Tex-Mex chopped salad
There's just something about the flavors of Tex-Mex that make even a salad exciting! Get the recipe here.  
Asian chicken chopped salad
Sesame seeds and slivered almonds add a tasty, low calorie crunch to this protein-filled chopped salad. Get the recipe here.