Car recall list 2017: Here are recalls affecting Honda, Acura, Nissan, Toyota and BMW owners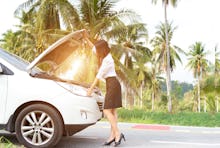 When you buy a car, you might not expect perfection, but you assume that your vehicle won't randomly catch fire. And you hope your airbags might save your life — not take it —  if you're ever unlucky enough to crash.
Unfortunately, the past few years have shown these are assumptions you can't necessarily make. A record-high 53.2 million vehicles were recalled in 2016 in the United States, and one in four vehicles on the road has an open recall. You can't assume you're safe if you purchase luxury brands either, as some of the most dangerous recalls have impacted premium car makers such as BMW. 
Here's what to know if your car was one of the many that needs to be taken off the road for vital repairs. Is your auto missing from this list but causing you concern? Check your vehicle identification number at safercar.gov.
Honda and Acura recalls
Safety features can sometimes backfire. Indeed, one of the most dangerous problems prompting recalls in recent years is issues with exploding airbags.
Takata Airbags have been found to have defects in their inflators and propellant devices, causing the airbags to deploy in a dangerous way. Metal fragments shoot into vehicle occupants, and have reportedly been linked to at least 11 deaths. 
"Honda has been hit hardest by the recall, with more than 10.7 million Honda and Acura vehicles affected," Engadget reported. The most recent recalls by Honda include the following vehicles: 
• Acura MDX, model years 2005 to 2006
Honda has an online vehicle lookup page for Acura and Honda owners, and you can also contact the recall line at 888-234-2138. 
Toyota and Lexus recalls
Toyota also recalled 844,277 vehicles in June because of Takata airbag problems, according to Car and Driver. Affected models include:
• Lexus SC 430, model years 2002 to 2004
Toyota also has a recall page for drivers to check if their vehicle model is impacted. Lexus drivers can call 800-255-3987 and Toyota drivers can contact 800-331-4331 for assistance. 
BMW recalls
BMW was yet another brand that installed Takata airbags and has been forced to recall vehicles as a result. According to Cars.com, 36 models have been affected, including: 
• 2017 BMW X5
BMW has a safety recall page, like other car makers. You can contact BMW at 800-525-7417 for information if your vehicle has been recalled.
Nissan recalls
Nissan's problem is different: The car maker reports that its power steering hose clamps may not secure the hose adequately. "That could allow the hose to detach and leak power steering fluid. That could lead to a fire If it leaks onto a hot engine or exhaust pipes," the Associated Press reported.
More than 56,000 vehicles are affected, including:
• Nissan Murano, model year 2013
Nissan's website also allows you to look up recalls by VIN number and drivers can call  800-NISSAN-1 to get information about their recalled cars. 
Is your car safe? You'd be surprised.
New and used cars can all potentially come with life-threatening defects. Unfortunately, the law does little to protect you. Case in point, defective Takata airbags were still being installed months after Takata was fined $70 million by NHTSA in November. This was "allowed by NHTSA under a special law, until supplies of new airbags can be replenished," according to the NY Daily News.
Loopholes in the law even allow certified used vehicles to be sold with open recalls. Seriously.
"The Federal Trade Commission, in a decision that also drew criticism from some lawmakers, said ... big used-car chains could advertise their used vehicles as having been carefully inspected and repaired even if the cars might still be subject to safety recalls for problems that had not been fixed," according to the New York Times.
Dealers can advertise used cars as "inspected and repaired," as long as they generally warn consumers that a pending recall might exist and inform them of how to find out. They don't have to make specific repairs or specify if a recall is underway, per the Times.
Scary, right? With regulations failing to provide protection, you can take matters into your own hands.
The National Highway Traffic Safety Administration has a website where you can input your VIN number to find out whether your car is part of a recall. Check back frequently, as new recalls are announced with troubling regularity. 
Sign up for The Payoff — your weekly crash course on how to live your best financial life. Additionally, for all your burning money questions, check out Mic's credit, savings, career, investing and health care hubs for more information — that pays off.