'13 Reasons Why' release time: When to watch the new Netflix series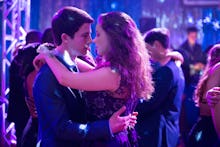 13 Reasons Why, the new series about a teen's suicide adapted from the bestselling book by Jay Asher, will premiere on Netflix on Friday, March 31. 
The 13-episode season was a passion project for executive producer Selena Gomez, who had originally envisioned herself as starring in a film adaptation of Thirteen Reasons Why after reading the book as a teenager. 
When and where to watch 13 Reasons Why
13 Reasons Why will be available to stream on Netflix Friday at 3 a.m. Eastern.
About 13 Reasons Why
13 Reasons Why stars newcomer Katherine Langford as Hannah Baker, a teenage girl who took her own life. She left behind a collection of cassette tapes that record the 13 reasons why she made that decision. Dylan Minnette's Clay Jensen, who has a crush on Katherine, finds the tapes on his porch. Each tape represents a different person and how they impacted her life. 
The trailer features Langford's voice as Hannah, saying, "Settle in, because I'm about to tell you the story of my life. More specifically, why my life ended. And if you're listening to this tape, you're one of the reasons why." 
Asher's book, a New York Times bestseller, struck a personal, emotional chord with readers. "This book makes me more aware that even the small things I do can have an effect on people," Asher said. "But I've also heard from teens who say, 'I was suicidal when I picked up your book, and I identified with Hannah, and I wanted her to live.' When I started getting emails like that ... I can't even describe the feeling."
Praised as portraying high school in a "realistic" way, the show has been described by Langford as offering an "unflinching" look at teen suicide. 
The series features Kate Walsh and Brian d'Arcy James as Hannah's parents. The cast also includes Derek Luke, Brandon Flynn, Justin Prentice, Alisha Boe, Christian Navarro and Tommy Dorfman. 
Tony and Pulitzer Prize winner Brian Yorkey wrote the series, which is directed by Oscar winner Tom McCarthy. Yorkey is no stranger to dark subjects, having penned the book and lyrics for the musical Next to Normal, which addressed mental health problems such as bipolar disorder. 
Mic has ongoing Netflix coverage. Please follow our main Netflix hub here. 
.