Needleporn: The queer, wholesome yet sexually explicit craft you need to get into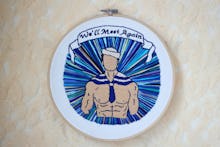 "I wanted to sew porn; I felt like it might be a fun thing to do," 22-year-old London-born Zachary Nutman decided on a whim two years ago after moving to New York City to attend film school at NYU. 
Growing up in London, Nutman says the depictions of queer eroticism he saw in television and film were mostly either punishing to queer characters, often resulting in violence — like on HBO's Game of Thrones — or totally devoid of any real expressions of sexuality, depicting them as non-sexual or heteronormative — like on ABC's Modern Family.
To contend with this, Nutman decided to concoct "the most grandmotherly, matriarchal way to depict aggressive queer sex in a way that felt wholesome and was not at all diluting the sexuality of it," he said, "but rather celebrating it." And so, wanting to create something folks could proudly hang on their walls, he settled on an old hobby of his: needlepoint ... extremely NSFW needlepoint.
Cowborgies, queerleaders, finger banging and pegging are just some of the themes Nutman explores by way of an art form he says is largely associated with grandmothers in the South stitching Bible quotes. 
Jeremiah 29:11 this ain't.
"I didn't have an interest in diluting the sexuality," he said. "The only criteria is that it feels queer to me. It was always important for me to show hard, queer sex in this really soft medium. The first one I did was two dudes going at it. It didn't get more sexual; it started off really sexual and has stayed that way."
Influenced by the work of Tom of Finland, Grayson Perry and Ross Watson, thus far he's made around 30 pieces and has no plans to stop any time soon. Each can take up to 100 hours to create, depending on the size.
"I was thinking about the most grandmotherly, matriarchal way to depict aggressive queer sex in a way that felt wholesome and was not at all diluting the sexuality of it, but rather celebrating it."
When asked if there's anything too explicit to be woven, Nutman replied "definitely not" without a hint of hesitation.
So who's the intended audience? "In my mind, I make them for queer people — and that is what I intend to keep doing," he said. "They are the people I find understand and respond to them the best. But something I found really fascinating while making these is that non-queer people who I would think normally would blush at images of hard queer sex, because of the softness of the medium, find themselves questioning that impulse and actually being more open to these images." 
Since he started posting the images on his Instagram, he's received some rather colorful comments from fans. "My favorites are people reaching out to commission pieces of themselves or them with their partners — especially when they get really, really specific about poses and positions," he said.
An example request he received in his inbox: "I would love to commission a piece of me fucking my sweetheart, if that is not too much of an intimate request. Haha ... I'm thinking he's on his back with legs kinda in the air, but spread so you can see his dick and I'm like halfway in."
While he's mostly creating one-offs at the moment, he'd eventually like a formal presentation — but he's not thinking the MoMA. "I would want it to be at the most over-the-top, awful, ugly grandma's house; floral wallpaper with a floral couch with floral curtains and awfulness and lace everywhere," he said. "And then I want a drag queen as a grandma in an apron sitting pretending to be sewing one in an armchair while the others are hanging on the wall behind her. That's my fantasy."
To see NSFW versions of Nutman's work, check out his website.