Elizabeth Warren 2020: Could the Mass. senator defeat Trump in the presidential election?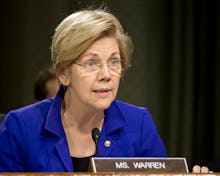 Senator Elizabeth Warren (D-Mass.) has been a favorite target of President Donald Trump for over nine months. 
At a June 10, 2016, campaign rally Trump, using the pejorative nickname he often employs for her, said, "Pocahontas is not happy, she's not happy.... Elizabeth Warren, I call her 'goofy,' Elizabeth Warren, she's one of the worst senators in the entire United States Senate." 
Warren is a prominent public voice of opposition to the Trump administration, but is she well-placed to run, or to win, the 2020 election?
Warren's chances depend on why Trump won in the first place
Trump and Warren both represent themselves as defenders of the working class. Warren is the third-most popular and third-most widely known Democratic politician among fellow Democrats, after Joe Biden and Bernie Sanders. 
If Trump won because of perceived economic dislocation, then perhaps Warren could mount a credible challenge in 2020. She is seen as tough on Wall Street, while Trump has stacked his Cabinet with so many Goldman Sachs executives that Warren is investigating the ties between the Administration and the firm. 
She could use her history of consumer advocacy to argue that she is the real hero of the working class. After four years of Trump-ism, that might be a winning argument. 
But if the real cause behind Trump's 2016 win was perceived social dislocation among white men, then there is probably little hope for a future President Warren. Insidegov ranks Warren as the second-most liberal member of congress, more liberal than Bernie Sanders. She is a former Harvard Law professor during a time of growing anti-intellectualism. She is from the most liberal state in the union, and rose to national prominence through a series of appearances on the Daily Show. 
Trump isn't a sure bet to run in 2020
Trump has only been in power for two months, but pundits are already talking about 2020. Warren's name-recognition makes her an obvious candidate to hypothesize about, but it is not at all obvious that she would be a good candidate. 
While Trump's 2020 campaign has technically already begun, the election is so far away, and the current administration so marred by scandal, that we don't even know if Trump will be on the ticket.