'Death Note' Boycott: Why the upcoming Netflix show is stirring controversy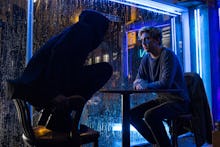 Netflix just can't seem to scrub away the persistent stain that is its whitewashing controversy. 
It started when the streaming service chose white actor Finn Jones as the lead in Iron Fist, missing a huge opportunity to recast the traditionally white role of the eponymous superhero with an Asian actor. The decision likely led, at least in part, to the series being the least-watched Marvel Netflix original to date. Now, Netflix is seeing a renewed round of backlash after repeating the same mistake with its upcoming series Death Note — and this time, fans are calling for a boycott.
The English-language adaptation was originally a popular Japanese manga featuring main protagonist Light Yagami, who receives a mysterious notebook with the power to kill anyone whose name is written within its pages. Naturally, Yagami is a young Japanese man in the animated version, but Netflix's adaptation cast a young white man in the role, even going so far as to change the character's name to Light Turner. 
Fans of the series are livid, and one of them decided to do something about it. Sarah Rose started a petition calling for the boycott of Death Note — and with more than 13,000 supporters already on board, Rose has all but reached her goal of 14,000 signatures. 
The Death Note manga has sold more than 30 million copies worldwide. It also brought two films, a globally successful anime and a musical. The story itself is full of Japanese culture, history and identity — and the Japanese narrative is essential to the plot and storytelling. 
Other Twitter users have expressed their outrage over Death Note's whitewashing with a variety of creative tweets.
It seems Netflix either didn't learn from its mistakes with Iron Fist or simply doesn't care, but here's hoping this is the last whitewashed original we see from the streaming service. 
Mic has ongoing Netflix coverage. Please follow our main Netflix hub here.