Oregon Republicans paint undocumented immigrants as rapists and murderers, offer no proof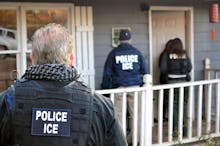 Oregon's Republican Party is reportedly taking a Jeff Sessions-style approach to the question of sanctuary cities, having recently issued a statement attributing violent crime in Portland, Oregon, to undocumented immigrants. According to Oregon Live, they offered no proof in support of the claim.
On March 22, Portland voted to declare itself a sanctuary city and affirm its policy that law enforcement officers will not enforce federal immigration law. Mayor Ted Wheeler vowed that the city "will remain a welcoming, safe place for all people," a sentiment with which the state's Republican Party spokesperson took issue. 
In a statement, the party called the sanctuary city vote "indefensible" and a "dereliction of duty."
"Mayor Wheeler said today that 'the City of Portland will remain a welcoming, safe place for all people' — which therefore must include criminal illegal aliens who are murdering and raping his city's citizens," spokesperson Kevin Hoar said. "This is the entire issue of sanctuary cities in our nation and Portland's city leaders have chosen illegal alien criminals over innocent citizens."
"The citizens of Portland deserve protection from the illegal aliens who are committing crimes against them," Oregon Republican Party chairman Bill Currier added. "It is an outrage that Portland's public officials are choosing to unlawfully harbor these criminals, helping them to avoid deportation. These same criminals are then free to commit further rapes, murders, and other felonies against our families and friends."
Neither Hoar nor Currier substantiated these statements with concrete examples, but according to Oregon Live, Hoar did complain that the media twisted his words. (Both men's statements, for what it's worth, are presented without elaboration on the party website.)
Hoar pointed to the Rockville, Maryland, rape case, in which the teenage son of an undocumented immigrant allegedly raped a 14-year-old student in a high school bathroom. The father, 43-year-old Adolfo Sanchez-Reyes, has been detained by ICE.
Although young white men who were born in the United States receive rape charges with troubling frequency, the incident has been used to support the argument that undocumented immigrants are inherently more dangerous than the average citizen. On Monday, Attorney General Jeff Sessions held a press conference urging cities and states not to name themselves sanctuaries, and reminding them that the Department of Justice is prepared to revoke federal funding if they do. Sessions spoke specifically to Maryland, explaining that the undocumented immigrants targeted had often been charged with "drug trafficking, hit and run, rape, sex offenses against a child and even murder."
As Oregon Live reported, that's not necessarily the case. Wheeler cited the arrest of Francisco J. Rodriguez Dominguez, who was living in the United States under the Obama-era Deferred Action for Childhood Arrivals program. Dominguez was not a violent criminal, and his "arrest does nothing to promote public safety," Wheeler said. 
"Instead," he continued, "actions like this only serve to tear apart our community and needlessly alter the lives of our residents."