35 mosques have been attacked so far in 2017 — and Trump hasn't uttered a word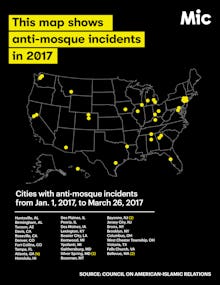 Hadeel Salah Esmat first found out her mosque, the Islamic Center of Fort Collins in Colorado, had been vandalized when she saw pictures of the crime scene on the center's Facebook page. Glass windows at the 5-year-old mosque were shattered, and the prayer carpets spread on the floor were littered with glass shards, bricks and a copy of the Bible.
"I always said I was so happy to be from Fort Collins because I never thought something like this would happen here," Esmat, a 19-year-old Colorado State University student, said. "It's scary and terrifying. This is a reality check."
On Sunday, the Islamic Center of Fort Collins became the site of the latest act of vandalism against mosques in the country. The Council on American Islamic Relations has compiled a list of 35 anti-mosque incidents in the United States since the start of the new year, as of Monday. In other words, that's about one attack on a U.S. mosque for every 2.5 days. 
Anti-mosque incidents are on track to surpass the record set in 2016, when 139 incidents were reported, according to Corey Saylor, who directs the Council on American-Islamic Relations' department to monitor and combat Islamophobia. 
Despite the uptick in anti-mosque attacks and a spike in anti-Muslim hate crimes, the Trump administration, including President Donald Trump himself, has been silent about these acts of violence in the United States. 
Trump did, however, call Canadian Prime Minister Justin Trudeau after a noted Trump supporter walked into a mosque in Quebec City and fatally shot six people in late January. On Feb. 28, Trump condemned anti-Semitic vandalism and an apparent hate crime on two Indian men in Olathe, Kansas, who were mistaken for Middle Easterners.
But after attacks like the one on the Fort Collins mosque, which calls to mind the vandalism of Jewish community centers that Trump has addressed, the president has yet to speak out.
Condemning anti-Muslim attacks is critical to decreasing these incidents, according to Saylor, especially since Trump's name has occasionally appeared in graffiti on mosques, and in letters sent to Islamic centers across the country.
On March 19, an Islamic center in Cedar Rapids, Iowa, received a letter addressed to "the Children of Satan," stating Muslims should pack up their bags and leave because "there's a new sheriff in town — President Donald Trump." The letter ended with a warning that Trump will cleanse America just like "what Hitler did to the Jews."
Before the incident at Fort Collins, four mosques across the country were set on fire over the course of seven weeks. The Islamic Center of Victoria in Texas was set ablaze just hours after Trump signed an executive order barring immigration from seven Muslim-majority countries.
"When the president does not acknowledge these [anti-mosque] attacks as part of a pattern, and when he does not use the language of condemnation, or gives no response," Nazir Harb Michel, a senior researcher at Georgetown University's Bridge Initiative, said in a phone interview, "he keeps he story at a low level away from people's attentions."
Saylor said the most drastic spike in anti-Muslim violence began at the start of the 2016 election cycle. Since then, Trump and his administration have perpetuated plenty of falsehoods about Muslims, ranging from "Islam hates us" to spreading the notion that Muslims are inherently more violent toward women. As long as anti-Muslim policies and rhetoric continue to be at the core of his administration's agenda, Saylor said the threat of Islamophobic extremism will continue.
"The administration continues to put out rhetoric that enables the hate of minorities," Saylor said. "He needs to make sure there's a very clear message coming from his administration that all forms of bigotry will be rejected."