White man who fatally stabbed a black man in New York City faces terrorism charges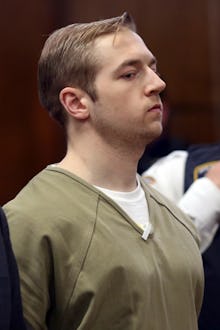 A Baltimore man who admitted to fatally stabbing a black man in New York City simply because he was black will face terrorism charges, Manhattan District Attorney Cyrus R. Vance, Jr. announced Monday.
James Harris Jackson, 28, was charged in New York state court with one count each of first-degree murder as an act of terrorism, second-degree murder as an act of terrorism and murder in the second degree as a hate crime, as well as three counts of criminal possession of a weapon, Vance's office announced.
Jackson admitted to fatally stabbing Timothy Caughman, 66, with a 26-inch sword, telling police he hated black men and chose to murder one in New York because it's the "media capital of the world," NBC New York reported.
Vance said in a statement that Jackson, "Prowled the streets of New York for three days in search of a black person to assassinate in order to launch a campaign of terrorism against our Manhattan community and the values we celebrate.
"James Jackson wanted to kill black men, planned to kill black men, and then did kill a black man. He chose Midtown as his crime scene because Manhattan is the media capital of the world, and a place where people of different races live together and love one another," Vance added. "We must never take for granted New York's remarkable diversity. We must celebrate it, protect it, and refuse to let violence and hate undermine the progress we have made as a city, a state, and a nation."