Wife of Khalid Masood, London attack suspect, condemns his actions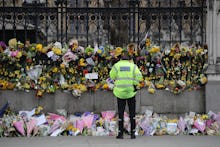 Rohey Hydara, the wife of Khalid Masood, who earlier this month drove a car into the U.K. Parliament building and killed four people, has spoken out against her former husband's actions, CNN reports.  
Hydara released the statement to the U.K.'s press association through the Metropolitan Police. In it, Hydara says she is "saddened" and "shocked" by Masood's actions. 
"I totally condemn his actions," Hydara said. 
She continued, "I express my condolences to the families of the victims that have died, and wish a speedy recovery to all the injured. I would like to request privacy for our family, especially the children, at this difficult time."
Masood injured three police officers and about 50 civilians during the attack when he drove the car over Westminster Bridge toward Parliament. After ramming his car through Parliament's gates, Masood stabbed a police officer as well. Another officer then shot and killed Masood. The incident was treated as a terror attack.
Though ISIS claimed responsibility for the attack, the claim has not been verified thus far. 
CNN reported that Masood's mother, Janet Ajao, also spoke out against her son's actions earlier this week, saying she was "deeply shocked, saddened and numbed" by the attack. She also said she "shed many tears" for people her son killed.