Trump Climate Change: 3 ways a CPP rollback would destroy Obama's environmental legacy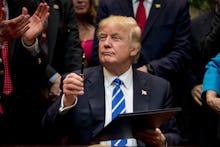 On Tuesday, President Donald Trump is expected to sign an executive order that will eliminate former President Barack Obama's Clean Power Plan, a strategy meant to reduce carbon emissions in the U.S., USA Today reports. 
Trump, who said that climate change is a Chinese hoax, will sign the executive order to fulfill several campaign promise he made to coal workers in all-important electoral states like Pennsylvania and Ohio.   
Once Trump signs the order, here's what to expect. 
1. Revoke the Clean Power Plan
According to the Associated Press, Trump's executive order will put Obama's Clean Power plan under immediate review. 
The Clean Power Plan set out to reduce carbon emissions, especially from America's coal power plants. Though Trump will undo the regulations, they actually haven't gone into effect yet because of several legal challenges to the plan. 
According to USA Today, one of the states suing the Environmental Protection Agency over the regulations was Oklahoma, whose attorney general Scott Pruitt is now the EPA director.
The Supreme Court ruled that a lower court must rule on the plan's constitutionality before it goes into effect. A Washington, D.C., circuit court heard the case in September. The court has not yet issued a ruling, but when they do it could be the final ruling, if the Supreme Court decides not to take the case. 
During his campaign, Trump promised coal workers he would cut Obama-era regulations, which he said were hurting the coal industry. The New York Times speculated that Trump's curtailment of coal-industry regulations may not help the industry, as the free market prefers cheaper and cleaner natural gas.  
2. Eliminate the moratorium on coal leasing
In January 2016, the Obama administration placed a three-year moratorium on coal leasing from federal lands. According to the Washington Post, environmentalists lauded the plan while those in the coal industry denounced it for its impact on American jobs. 
The moratorium, according to the Associated Press, was partly a climate change measure, but was also meant to ensure that the coal leasing program, which costs $1 billion a year, is a sound investment of taxpayer money. 
Trump has already rolled back one huge regulation on the coal industry. In February, the president signed a measure repealing the Stream Protection Rule, which stops miners from dumping coal into bodies of water.  
3. No more "social cost" of carbon
According to AP, in an effort to reduce regulations, Trump's order will do away with language regarding the "social cost" of carbon and greenhouse emissions. 
According to Slate, since 2008, federal agencies have had to weigh the "social cost" of carbon when making decisions about regulations, meaning agencies must think about how the regulations they create affect human lives via carbon emissions. The plan, according to Slate,  "incentivizes long-term good behavior over short-term economic gains." 
"It's the most important number you've never heard of," Michael Greenstone, a University of Chicago economist, told Slate.
Trump has openly touted his dislike for regulations. In his first speech to Congress in February, Trump said his administration has made a "historic effort to massively reduce job-crushing regulations." 
In that speech, Trump also indicated a mandate that "for every one new regulation, two old regulations must be eliminated."