What is the Clean Power Plan? 4 things to know about Trump's latest environmental target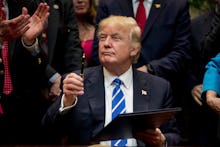 President Donald Trump on Tuesday signed an executive order abandoning the Clean Power Plan — the Obama administration's ambitious climate initiative that calls for a 32% reduction in power plant carbon dioxide emissions to 2005 levels by 2030.  
The plan — unveiled in 2015 — was the most aggressive proposal an American president has ever made in the fight to curb climate change, seeking to impose strict regulations on how much carbon states are able to emit. 
Climate change activists largely welcomed the measure as a step in the right direction, but opponents — including Environmental Protection Agency Administrator Scott Pruitt — challenged its legality and tied the proposal up in federal court. 
The executive order is part of the Trump administration's broader dismantling of former President Barack Obama's initiatives to fight climate change. On Tuesday, Trump also ended a moratorium on coal leases on public land, backtracked on Obama's methane restrictions and instructed his EPA to ignore a cost-benefit analysis method that converts the impact of carbon emissions into an economic cost. 
"We are going to go in a different direction," a senior administration official told reporters before Trump announced his rollback of climate change initiatives. "The president has been very clear that he is not going to pursue climate or environmental issues that put the U.S. economy at risk."
So what did the CPP do?
It was designed to slow climate change
The CPP aimed to cut carbon dioxide emissions 32% from 2005 levels by 2030. 
It was also a big part of the Paris global climate agreement, which brought the United States and China — two of the world's worst polluters — together with most of the world's nations to combat climate change. 
Myron Ebell, who headed Trump's EPA transition team, predicted in January that the president — a climate change doubter — would pull out of the Paris treaty, though a senior administration official told NPR that Tuesday's executive orders do not address the Paris agreement. 
"Whether we stay in or out is still under discussion," the official said.
It would stop thousands of preventable deaths per year
An EPA cost-benefit analysis of the CPP found that the proposal would prevent 3,600 premature deaths from air pollution exposure; 1,700 heart attacks; 90,00 asthma attacks; and 300,000 missed school and work days per year, according to Quartz.
"From these reductions alone, for every dollar invested through the Clean Power Plan, American families will see up to $4 in health benefits," EPA cost-benefit analysts wrote.
But Republicans have dismissed the CPP as a "job-killer," and Trump promised at a Kentucky rally last week that his executive order would "save our wonderful coal miners from continuing to be put out of work." The president will likely be unable to follow through on that promise, as coal is less financially stable than cheap natural gas and renewable energy sources, the New York Times reports, and most coal mining jobs have been lost to automation.
It doesn't really have anything to do with energy independence
 President Trump on Tuesday celebrated his assault on the Obama administration's climate policies as a way to increase U.S. energy independence, echoing comments made Sunday by Pruitt on ABC's This Week in which he described the move as "the energy independence executive order."
But, the Times notes, the U.S. already relies mostly on domestic energy.
"We don't import coal," Robert Stavins, an energy economist at Harvard University, told the Times. "So in terms of the Clean Power Plan, this has nothing to do with so-called energy independence whatsoever."
The executive order is just the beginning
Now that Trump has gutted the CPP, his EPA will begin writing a new plan to replace it — a process expected to take years and that will likely spell legal challenges from states and environmental groups who will almost certainly oppose the administration's more relaxed climate regulations.
Tuesday's executive order also underlines the Trump administration's sharp shift in climate policy from that of the Obama administration. Gutting the CPP will almost guarantee that the U.S. will not meet its terms of the Paris agreement, which Pruitt — who sued the Obama administration to halt CPP while Oklahoma attorney general — has repeatedly criticized. 
"My administration is putting an end to the war on coal," Trump said on Tuesday. "With today's executive action, I'm taking historic steps to lift the restrictions on American energy, to reverse government intrusion, and to cancel job-killing regulations."